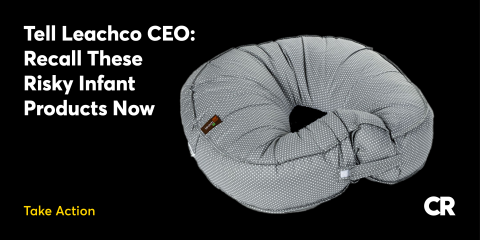 Company refuses to recall products linked to two infant deaths
"How many deaths or injuries does it take before a company recalls a product?"  It's a question we ask ourselves at Consumer Reports all too often - whether it's infant sleepers or dressers that tip over.  
Now, there's another line of products making headlines, and a company that's refusing to act. Last week, federal safety regulators asked infant products company Leachco to recall its Podster, Podster Plush, Bummzie, and Podster Playtime Infant Loungers, which have been connected to two deaths.  But Leachco is refusing, and regulators can't force the recall without taking the company to court – a potentially long and drawn-out process that leaves more babies at risk.
The Consumer Product Safety Commission (CPSC) last week warned parents to stop using these products - over 180,000 of which have been sold - because they pose a suffocation hazard.  But Leachco has rejected the recall, and says its products are safe when used as directed.
This latest warning comes several months after another manufacturer – the Boppy Company – recalled about 3.3 million infant loungers tied to a reported eight deaths. In fact, Consumer Reports found at least 28 infant deaths connected to lounging pads and nursing pillows made by various companies. Regulators warn caregivers never to let infants sleep on lounging pads or nursing pillows, because babies may roll over or their heads may fall in a way that can cause suffocation.
"Two infants are dead, and two families are grieving," says Oriene Shin, CR's policy counsel for product safety. "Leachco must do what's right and recall these products." 
You can join Consumer Reports in demanding Leachco do the right thing and recall their infant loungers by sending a message directly to CEO Clyde Leach. It is a company's responsibility, first and foremost, to sell products that keep consumers safe.  Tell Leachco to take action before more families pay the price.