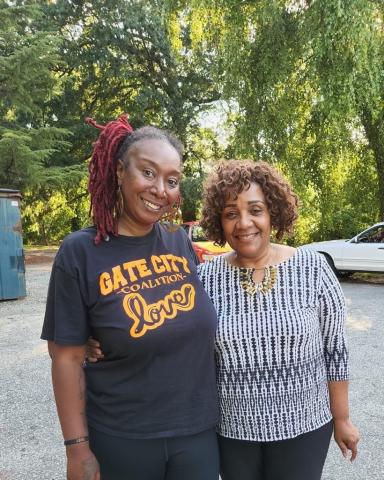 Community Violence Interruption Models Work to Reduce Gun Violence
I am the program manager of the Gate City Coalition, which is the Greensboro, NC branch of Cure Violence. Cure Violence works to end gun violence through a community violence interruption model. I was brought into this work when I was shot in the head in 2011. I do not consider myself to be a victim; I am a survivor of gun violence. I am driven to do this work because of the injuries I sustained, as well as by the loss of family members. Two big losses really pushed me into this work.  One was a fifteen-year old boy who was a close friend of my son's – he was like a nephew to me. The second was the loss of my younger cousin, who was only 18 at the time. Their deaths made me get active in the community.    
The Gate City Coalition works with families and helps them choose mediation instead of retaliation for a death or a shooting. We opened our doors on January 1, 2019, and in our first two years, we saw a 15% decrease in homicides and violent acts of aggression in our target area. We helped 40 participants find jobs,and we helped over 15 participants get off of probation. For example, one of our participants had never worked, so we helped him find his first job. We helped his family sustain stable housing and find child care so that he could work. He actually changed who he was, and did not go back into the streets or become violent.
Community violence interruption programs are not the only answer, but they offer one solution that yields results. We are successful because we are able to have conversations with people in the community who trust us, who look like us, and who are open to us and our opinions. Having the respect of our community matters. One of our current violence interrupters started out as a participant. He is no longer committing violence; instead, he is in the process of stopping it at the root.
 
Community-based grassroots organizations like Gate City Coalition are a really important piece of violence prevention. We are proactive, not reactive, and try to prevent the violence from happening before it begins. With additional funding, we could have additional wraparound services, hire more staff, and expand into other areas of the city that need help.