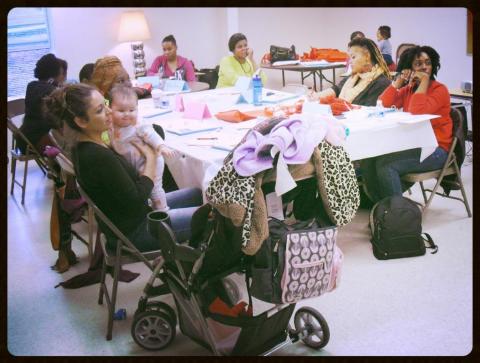 Community Transforming ROSEs provide peer breastfeeding support
Reaching Our Sisters Everywhere (ROSE) is a member network that was founded to address breastfeeding disparities among people of color nationwide through culturally competent training, education, advocacy, and support. With a focus on increasing breastfeeding initiation and duration rates, ROSE seeks to normalize breastfeeding by serving as a catalyst that provides resources and networking opportunities for individuals and communities. Our efforts to empower a growing cadre of advocacy-oriented "ROSE Community Transformers" tops the list in our strategic plan to address breastfeeding inequities.
The concept of our ROSE Community Transformers emanates from the importance of and impact that peer-to-peer support can have on the breastfeeding initiation and duration rates in our communities. This has been reiterated in The Surgeon General's Call to Action to Support Breastfeeding and strategy 4 of The CDC Guide to Strategies to Support Breastfeeding Mothers and Babies. ROSE strongly believes that a concerned and passionate individual can have an impact within their community, without credentials behind their name. This individual can become a part of a larger team in the continuum of care in addressing the needs of pregnant and parenting women and their families.
ROSE frequently receives calls and emails from mothers who are driven to help other mothers, and trying to find an avenue to do so. Often times the motivation comes from either having the support they needed and wanting to pay it forward, or being without the support they needed and wanting to make sure no other mother is faced with that same experience. There is an overwhelming sense of urgency when looking at the current state of Black infant and maternal health, and the women driven to become ROSE Community Transformer are motivated by a need to act immediately.
Therefore, our ROSE Community Transformer program is more than a simple two-day training. The initial eligibility to apply is a mother that has breastfed for at least 6 months within the past 5 years with an overall self-assessed positive experience. Prior to the training, ROSE reaches out within the community where the training will be held, and invites interested individuals to attend the training. ROSE utilizes an evidence-based approach for peer-to-peer breastfeeding counseling, while incorporating strategies our participants can use towards furthering the impact within their local communities. These trainings are usually filled with laughter, ah-ha moments, and the sharing of stories that builds the foundation of these newly-formed relationships. ROSE's objective is not to dictate what a Transformer does, but to provide guidance, techniques and resources, because these phenomenal women know their communities the best.
After each training, our ROSE Community Transformers are all added to a private Facebook group that provides as a sharing space, access to resources, and guidance on setting up their breastfeeding clubs. Our fantastic ROSE Community Transformer Leader, Kizzie Collins does a remarkable job of keeping in touch with the ladies, as they have become a part of the growing ROSE family.
ROSE Community Transformer Training is free to our participants; in fact each person is compensated for giving their time. Our ability to host these training and provide all the materials are from the generosity and support of our funders which include the W.K. Kellogg Foundation, Communities and Hospitals Advancing Maternal Practices (CHAMPS) project through Boston Medical Center, National Association of County & City Health Officials (NACCHO), Georgia Health Foundation, and Amerigroup. It is with these funding opportunities that ROSE will train at least 230 Community Transformer by the close of 2016 within the Southeast Region of the United States.
Although our current funding is concentrated on the Southeast Region, it is our goal to expand ROSE and the Community Transformer Program across the nation. The gaps in the rates for breastfeeding, infant mortality, and maternal care practices are the proof we need for addressing health inequities affecting our sisters everywhere.  If you are interested in supporting our efforts and breastfeeding clubs led by ROSE Community Transformer, please consider making a tax-deductible donation to Reaching Our Sisters Everywhere Inc.  If you have any questions, feel free to contact us.
This post is part of #BlkBFing Next Door: Local changemakers in the African-American breastfeeding movement shine for Black History Month. Read more posts here.