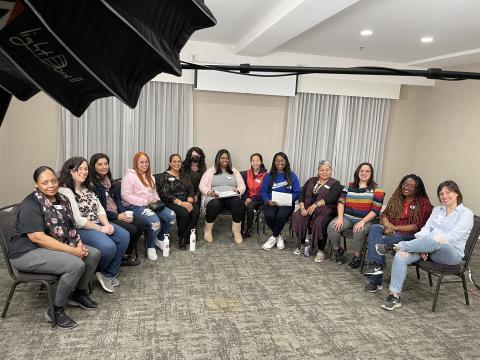 Community and Advocacy Building: 2022-2023 WA MomsForce Fellows Retreat and Lobby Day
Last week, the 2022-2023 Washington State MomsForce Fellows met for the first time in Olympia for their in-person retreat and to participate in our annual lobby day! 
Fellows connected in real life, filmed their capstone MomTalk projects, and bonded over their growth throughout the year-long leadership program which exposes them to policy, advocacy, and organizing. During our lobby day, fellows got the full experience with a tour of the capital, connecting with their representatives and powerful mom lawmakers such as Representative Kristine Reeves, Senator Yasmin Trudeau, Representative My-Linh Thai, and Senator Claudia Kauffman. 
Our children even had the chance to engage in advocacy and present what matters to them to Senator Kauffman in the form of a collectively made mural! To top it off, fellows sat in on hearings and saw our lawmakers in action! Congrats to our Washington State Fellows for finishing their fellowship program and engaging in three days full of advocacy, leadership, and connection.  
Curious about our Washington State MomsForce fellowship? Reach out to the Washington team at wainfo@momsrising.org