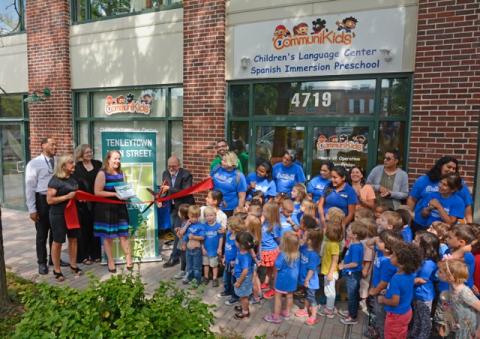 CommuniKids new free Pre-k Spanish Immersion Program in D.C.
Congratulations to our friends at CommuniKids for the opening of their new free Spanish immersion Pre-k seats the District of Columbia!
For more information on this new program, see the full press release below or visit CommuniKids main free pre-k website with information on details on how to apply: http://communikids.com/free-dc-pre-k/
**For resources on raising multilingual children, check out MomsRising's parent resource site: http://action.momsrising.org/survey/bilingual_baby/
-----------------
DC Mayor and Council Representatives to attend CommuniKids Preschool's September 14 Ribbon Cutting as first free Pre-K program in Ward 3
The District's recent designation of CommuniKids Preschool as a "High Quality" provider allowed the formation of a partnership that will bring dozens of new free prekindergarten seats to Ward 3. To commemorate the arrival of these coveted preschool spaces representatives from the D.C. Mayor's Office and the D.C. Council will attend a ribbon cutting ceremony at the Tenleytown locale.
A 2016 report form Child Care Aware of America estimates the cost of Early Childhood Education (ECE) in D.C. at $22,658 per year. One of the highest in the country. In response, D.C. Mayor Muriel Bowser is directing close to $15 million in new funding to ECE initiatives. Most of these dollars are going to ECE providers to allow them to add more seats and open new centers.
"Experts say there are multiple reasons for the high cost but the most important reason is that there are not enough seats to go around. This translates to high prices and long waitlists." said Raul Echevarria Co-Founder and President of CommuniKids Preschool. "We are very excited to have the opportunity to partner with the D.C. government to help expand access to high quality early childhood programs in our neighborhood and are committed to do all we can to make these programs affordable."
While there is no quick fix to the high cost problem, the increased focus on bringing quality and affordability to ECE programs could be a significant step towards curbing rising ECE costs. Echevarria stresses that
"early childhood education is not professional babysitting, it is a significant educational investment that engages young children at the time when 85% of core brain development occurs. This is the time when we can really ensure that children are set up for success. The fact that DC and local providers are committed and working together to ensure children have access to high quality early childhood education makes me confident that we can significantly increase access to high quality prekindergarten in Tenleytown and the rest of the District of Columbia."
Located at 4719 Wisconsin Avenue, NW CommuniKids is a nationally accredited Spanish immersion preschool that promotes kindergarten readiness, social-emotional competence and multilingualism. As discrete developmental areas, these elements are strong in their own right; together they form a powerful evidence-based foundation for preparing students for their K-12 education while developing global competence. We extend an invitation to all members of the community to come visit our center. To find out more go to www.communikids.com.