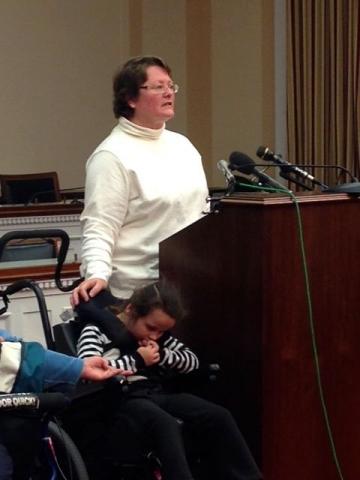 Clinton's Proposal for a Caregiver Credit in Social Security is a Great Start
By Virjeana (Jeannie) Brown
This week, presidential candidate Hillary Clinton made specific proposals to help caregivers and expand certain aspects of Social Security.  As a caregiver and recipient of Social Security, I believe that it is important for individuals and families to have access to tax credits, such as the $6,000 annual credit she proposes to offset the costs associated with caregiving.  I also believe that it is admirable to put another $100 million over 10 years to provide much needed respite to individuals and families providing caregiving.
The most important aspect of her proposal, however, is to add a caregiver credit to Social Security.  In 2010, I gave up my good job to become a full-time, unpaid caregiver of my severely medically fragile, disabled granddaughter.  This was after my mother suffered a mini-stroke.  I spent my entire savings and retirement paying off my house and buying a wheelchair accessible van.  I support my granddaughter and myself on $770 a month adoption subsidy. The $6,000 tax credit cannot help me, but a Social Security Caregiver Credit  (as included in Clinton's plan and proposed in Congress by Rep. Nita Lowey, D-NY) could.  This would give me five years of credit toward my future retirement, which is extremely important as I am only 51 years old and have already been out of the workforce for five years.  My estimated future benefit has already dropped by over $3,000 annually.  I am not unique, as there are hundred of thousands of individuals in very similar circumstances.
I applaud Clinton for putting an even bigger spotlight on these very important issues.  Still, I would like to see her and all presidential candidates include the Caregiver Credit as part of a bigger Social Security expansion package that would also include things like eliminating the payroll tax cap, using a more progressive formula for COLA calculations (known as the CPI-E) and raising benefits across the board.
I would also like to see each presidential candidate say NO to any cuts to Social Security, including raising the retirement age.  Current retirees have already taken significant cuts to benefits because of adjustments by past Presidents.
Finally, the fact that presidential candidates are talking about these crucial issues is a testament to the organizing work done by the Center for Community Change Action and other groups across the country who have managed to shift the debate over retirement security away from cuts and towards the need to expand.  Let's keep pushing all candidates to take a stand for Social Security!
Brown is a grassroots ambassador who volunteers on retirement security issues for the Center for Community Change Action.