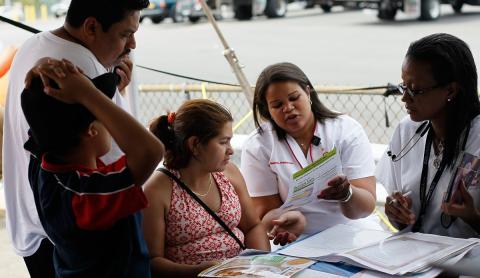 Cities Can Still Help Children and Families Get Health Insurance
This post originally appeared on the National League of Cities' blog, CitiesSpeak.
"It doesn't matter why people don't have insurance; what matters is that we help them get it."   -Valerie McDonald Roberts, City of Pittsburgh
Although the 2015 deadline to enroll in health insurance through the Affordable Care Act's Healthcare Marketplace has passed, there are still ways for children and families to get covered. Depending on household size and income, children and families may qualify forMedicaid or the Children's Health Insurance Program (CHIP), and enrollment for both programs is available 365 days a year.
Medicaid and CHIP provide free or low-cost benefits to eligible families, including:
Coverage for inpatient and outpatient hospital services
Screenings and preventative services
Prescription drugs
Immunizations
Mental health services
For the last two years, NLC has been working with local leaders to connect families to these important public health insurance programs through our Cities Expanding Health Access for Children and Families (CEHACF) initiative. Cities have a vested interest in expanding coverage for children and families. When families have health insurance, the burden on hospital emergency rooms is reduced, families avoid the sky-high medical debt that often results in a financial crisis and children are healthier, which means parents take less time off of work to care for sick kids.
The eight cities participating in CEHACF are implementing a variety of effective strategies to get eligible children and families in their communities enrolled in Medicaid or CHIP. These include working with community organizations to coordinate citywide outreach events, conducting targeted outreach, e.g., school-based outreach and training city staff to provide one-on-one enrollment assistance. These cities are working to improve access to coverage for their residents because they know that having health coverage improves the quality of life for families and provides a level of economic and emotional security that families not only need, but deserve.
As Valerie McDonald Roberts, Chief Urban Affairs Officer for Mayor Bill Peduto in Pittsburgh noted in her recent op-ed, "When you find yourself telling your children that they can't break an arm or a finger not only because it will hurt or take a long time to heal, but also because you can't afford to take them to the hospital, you feel vulnerable." With Medicaid and CHIP, no family needs to feel vulnerable.
The bottom line, as McDonald Roberts aptly puts it, is that "when you visit the doctor, the people at the front desk don't care who issued your insurance card. They just want to see that you have one."
What is your city doing to promote Medicaid and CHIP enrollment? Let us know by contacting Dawn Schluckebier at schluckebier@nlc.org.