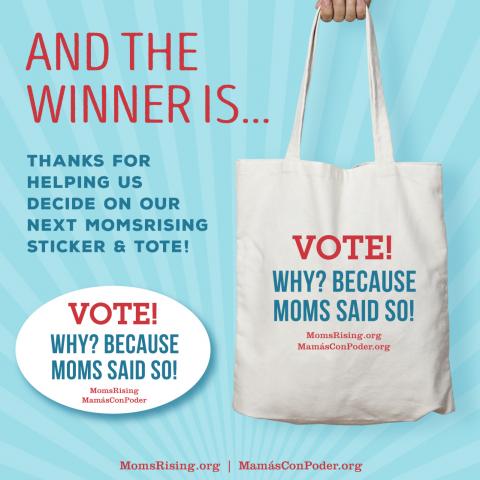 Chocolate is Nice. Equality is Better!
Mother's Day was founded with a simple and beautiful wish – to honor the person who has done more for us than anyone in the world.
At MomsRising, we do more than honor moms. We empower them – every day, all year long. We unite moms to win protections from gun violence, win access to lifesaving healthcare, win pay equity, win paid family leave, win economic security, and so much more.
One day isn't enough for us. We want EVERY day to be Mother's Day!
If you want that, too, then invest in this MomsRising movement with a gift today. To inspire your generosity, another supporter has offered to match your Mother's Day contribution, $1-for-$1, until May 8. Don't wait – make your contribution now!
There is something so deeply satisfying seeing moms (and dads!) like you coming together, exercising your mom power and changing the world.
In the past few years, MomsRising members like you have achieved INCREDIBLE victories for women and families:
Members rose up BIG TIME to help pass a revolutionary paid family-leave policy in the state of New York and many other jurisdictions across the nation. In fact, when all of the recent laws are implemented 4 states will have paid family leave laws and at least 25 localities will guarantee city or county workers have this policy. An increasing number of companies are also expanding their paid family leave coverage after a new baby arrives. Momentum is growing because moms and dads are raising their voices. We're not stopping until this is the law of the land everywhere!

 

Moms and dads across the U.S. are taking on the corporate gun lobby and winning. For example, tens of thousands of MomsRising members across the country took on and defeated the NRA in Florida by telling Florida tourism boards and industries that our families would no longer take family vacations in Florida if the NRA's dangerous bill to allow open carry of weapons became law.
And in what has been heralded as one of the greatest anti-poverty and economic booster achievements in the last decade, MomsRising members across the nation shared their personal stories and raised their voices in support of improvements to the Child Tax Credit (CTC) and the Earned Income Tax Credit (EITC), resulting in a win that will boost our national economy as well as 50 million people, including 25 million children.
Each of these victories began with MomsRising members like you raising their voice for good.
Celebrate YOUR mom power and make every day Mother's Day with a gift to MomsRising.
Give now and you'll have TWICE the power to help moms and families rise thanks to the Mother's Day Match.
Patricia, so much is on the line this election season. Moms' voices are more important than ever. With your contribution today, we will empower every mom we can to rise up, vote, and make America a better place for women and families.
Say you're in. Moms and families need your support!
With you by our side, our brightest victories are yet to come. Happy Mother's Day!
P.S. All contributions of $5 or more receive a free MomsRising bumper sticker. In appreciation of your donation of $50 or more, we'll send you a bumper sticker PLUS the new MomsRising tote! You can keep the bumper sticker and/or tote for yourself or give it to a mom friend to celebrate their hard work each day as a parent.