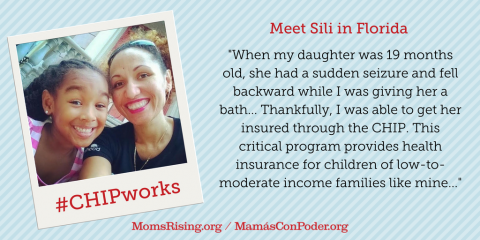 #CHIPworks - Meet Sili in Florida
The Children's Health Insurance Program (CHIP) ensures that we always give our kids a winning hand of lifelong health! 
Republicans and Democrats created this critically important program in 1997 because it was a low-cost, sound investment in our children's health and future—and they were right
! Since enacted, the uninsured rate for children has dropped by 
nearly 68%
!
Thanks to CHIP, and its companion coverage Medicaid, 
95% of our nation's children
 now have health insurance coverage and the cost savings, as well as life savings, are significant. 
This dramatic increase in kids' coverage has a tangible, positive impact on our nation's future health and education
. 
From Sili in Florida:
When my daughter was 19 months old, she had a sudden seizure and fell backward while I was giving her a bath. I was alone with her and couldn't leave her to dial 911, so I rushed out of my house calling for help, clutching my naked child who was seizing in my arms. Fortunately, my next-door neighbors were home and I fell to my knees and placed my child on the floor and prayed as they called for an ambulance. Her lips were already turning blue. She stopped seizing shortly thereafter and was unconscious for the next 35 minutes.

 

She was diagnosed with febrile seizures that day. She has had five other seizures since, each brought on by moderate fevers. Each one was just as frightening as the first. Another thing that was just as frightening for me. Being an unemployed single mom, attempting to start a business and worrying about how I would pay the medical bills if I had to rush my girl to the hospital.

                                                                                                                            

Thankfully, I was able to get her insured through CHIP. This critical program provides health insurance for children of low-to-moderate income families like mine. 
You can read more stories from parents about CHIP in our storybook, and if you have a story of your own about CHIP, you can submit it here.