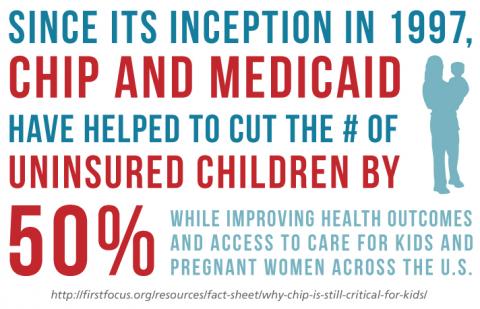 #CHIPworks - Meet Shavon in Indiana
The Children's Health Insurance Program (CHIP) ensures that we always give our kids a winning hand of lifelong health! 
Republicans and Democrats created this critically important program in 1997 because it was a low-cost, sound investment in our children's health and future—and they were right
! Since enacted, the uninsured rate for children has dropped by 
nearly 68%
!
Thanks to CHIP, and its companion coverage Medicaid, 
95% of our nation's children
 now have health insurance coverage and the cost savings, as well as life savings, are significant. 
This dramatic increase in kids' coverage has a tangible, positive impact on our nation's future health and education
. 
We are longtime CHIP recipients and are very grateful for the coverage. I have one daughter who had severe asthma as a young child which required many expensive daily medications and even occasional trips to the ER when she got sick and her condition worsened. She was saved more than once because of our health coverage through CHIP. I also have another daughter who fell off of a bunk bed and suffered a subdural hematoma and nearly died; she required emergency brain surgery to relieve the pressure. Once again we were so very grateful to have coverage and not need to worry about hospital bills in a time like that. Thankfully, both of my girls are now older and both are healthy and strong with no lasting effects from their conditions.
You can read more stories from parents about CHIP in our storybook, and if you have a story of your own about CHIP, you can submit it here.