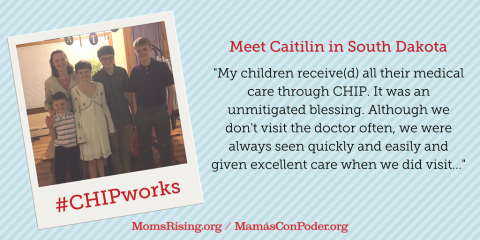 #CHIPworks - Meet Caitilin in South Dakota
The Children's Health Insurance Program (CHIP) ensures that we always give our kids a winning hand of lifelong health! 
Republicans and Democrats created this critically important program in 1997 because it was a low-cost, sound investment in our children's health and future—and they were right
! Since enacted, the uninsured rate for children has dropped by 
nearly 68%
!
Thanks to CHIP, and its companion coverage Medicaid, 
95% of our nation's children
 now have health insurance coverage and the cost savings, as well as life savings, are significant. 
This dramatic increase in kids' coverage has a tangible, positive impact on our nation's future health and education
. 
From 
Caitilin in South Dakota
:
My children receive(d) all their medical care through CHIP. It was an unmitigated blessing. Although we don't visit the doctor often, we were always seen quickly and easily and given excellent care when we did visit. The reduction in family stress by our not needing to worry about medical costs for our kids was incalculable; I wish every child received the level of care my children did!
You can read more stories from parents about CHIP in our storybook, and if you have a story of your own about CHIP, you can submit it here.