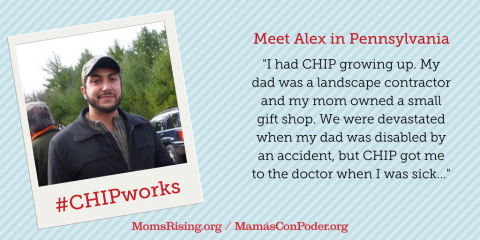 #CHIPworks - Meet Alex in Pennsylvania
The Children's Health Insurance Program (CHIP) ensures that we always give our kids a winning hand of lifelong health! 
Republicans and Democrats created this critically important program in 1997 because it was a low-cost, sound investment in our children's health and future—and they were right
! Since enacted, the uninsured rate for children has dropped by 
nearly 68%
!
Thanks to CHIP, and its companion coverage Medicaid, 
95% of our nation's children
 now have health insurance coverage and the cost savings, as well as life savings, are significant. 
This dramatic increase in kids' coverage has a tangible, positive impact on our nation's future health and education
. 
From 
Alex in Pennsylvania
:
I had CHIP growing up. My dad was a landscape contractor and my mom owned a small gift shop. We were devastated when my dad was disabled by an accident, but CHIP got me to the doctor when I was sick. If we didn't have it, I don't know what my family would have done to cover doctors and medications for me.
You can read more stories from parents about CHIP in our storybook, and if you have a story of your own about CHIP, you can submit it here.