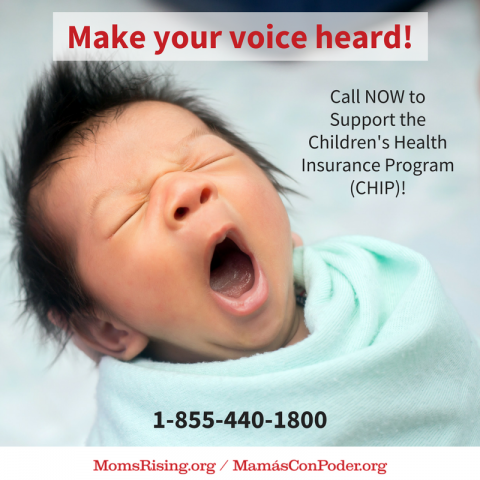 CHIP is in Jeopardy and Needs Action NOW
Many are celebrating the Affordable Care Act's survival of yet another attempt at repeal, but it is important to note that the health insurance of millions of children is still in danger. On September 30th, Congress allowed the Children's Health Insurance Program (CHIP) to expire. The day came and went and no vote occurred. This means the future of
almost 9 million children's health insurance is currently unknown. 
CHIP is a life-saving program that insures millions of children whose families are struggling financially. CHIP, in conjunction with Medicaid,
has helped to drop the uninsured rate of children to less than 5%
, down from 14% in 1997. This means that millions of children are able to get the health care they need at an affordable price. 
Hundreds of MomsRising members have sent us their stories about how CHIP has helped their families. Read below about how CHIP has helped MomsRising member Kathleen to raise a healthy family:
"CHIP has made a tremendous difference for my family's health and financial security. When my two sons were very young they were covered by CHIP. My husband worked as a carpenter, running his own business, and the only available insurance was unaffordable individual coverage. CHIP provided excellent insurance for my children, as we were able to get preventive care and treatment when they were sick. 

 

My older son, now 8 years old, became extremely ill with RSV when he was only 9 months old. He nearly died and had to be hospitalized for several days. If it were not for CHIP we would have been financially crushed by the cost of his hospital stay and unable to pay the bills. My younger son, now 5 years old, was covered by CHIP at age 1.5 when he had to be hospitalized due to extreme high fevers. Again, CHIP made it possible for my child to receive the care he needed without my family sinking deeper into debt.

 

The cost of health care is extraordinarily high and without the assistance of programs like CHIP, families who are struggling would suffer from a lack of medical care and from extreme financial hardship. I hope CHIP continues to be available to help families throughout Utah and elsewhere. Our family is lucky because my husband and I now both have good jobs with employer-provided health benefits. One key to having made this transition was the assistance provided by programs like CHIP, allowing us to stretch each dollar and get through tough financial times."
If you believe we need CHIP to continue to help families like Kathleen's then stay vigilant this fall and put the pressure on Congress. Call our hotline now at 1-855-440-1800 and tell your member of Congress to extend CHIP NOW!