Childhood Obesity Rates Drop in 18 States and One U.S. Territory
A new report on obesity among preschool children enrolled in federal health and nutrition programs shows the nation is making important progress to reverse the epidemic.
Among the places with declines, the U.S. Virgin Islands had the greatest decrease, from 13.6 percent in 2008 to 11 percent in 2011, and rates in Florida, Georgia, Missouri, New Jersey, and South Dakota dropped by at least one percentage point during that period. Rates remained stable in 20 states and Puerto Rico and increased in only three states—Colorado, Pennsylvania, and Tennessee.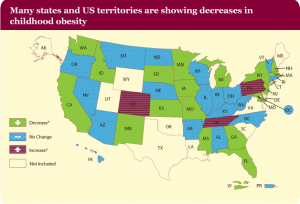 The authors cite several factors that may have helped contribute to the declines:
updates to the Special Supplemental Nutrition Program for Women, Infants, and Children (WIC);
new nutrition and physical activity standards for early child care programs; and
increased support for breastfeeding mothers.
Read the full report from the CDC