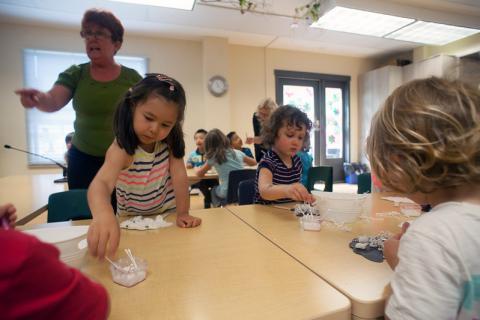 Childcare is a Public Good
With the Build Back Better Act on the cusp of being passed by Congress, it's time to settle a debate about one of the bill's key elements: childcare.
Among other things, the bill would increase support for families through childcare subsidies and universal prekindergarten. If passed, it would signal loud and clear that childcare is a public good—something we all benefit from even if we don't have kids.
As I write in a new book co-authored with Allen Mikaelian—called The Privatization of Everything—public goods are things we do together, things with no winners or losers, things that benefit everyone. Things like public schools, clean water, and Covid-19 vaccines. 
By this definition, childcare is certainly a public good. Yet, we treat it as a privatized market good, a commodity purchased by parents—like an iPhone or hamburger.
No wonder costs are skyrocketing, low teacher pay is creating a serious labor shortage, and more than 60 percent of families are paying more for childcare than they can afford. 
Like many things in our society, the burden has fallen the hardest on women. In September 2021, men gained 220,000 jobs while women lost 26,000. Nearly 1.6 million mothers with children under the age of 17 have dropped out of the work force since the beginning of the pandemic and have not returned. Childcare workers—nearly all of whom are women—typically only make about $12 an hour.
"I don't have a choice right now," a stressed mother recently told The Guardian. "I feel like I want to work. That should be a good thing, but it's just not possible now."
That's why childcare should be considered a public good. Leaving it to private markets is like using a screwdriver to cook dinner. Markets are simply the wrong tool. 
Daycare centers aren't businesses—they're schools. At least they should be, and that's what the debate is really all about. As Maxine Eichner says in her important book, The Free Market Family: "The American Dream has come to be interpreted as simply guaranteeing the right to compete for wealth in an ever more brutal market." 
That's because we're using the wrong tool to meet public needs—and the childcare policies in the Build Back Better bill will go a long way toward changing that. 
I'll give the final word to Treasury Secretary Janet Yellen: "The free market works well in many different sectors, but childcare is not one of them. It does not work for the caregivers. It does not work for the parents. It does not work for the kids. And because it does not work for them, it does not work for the country."