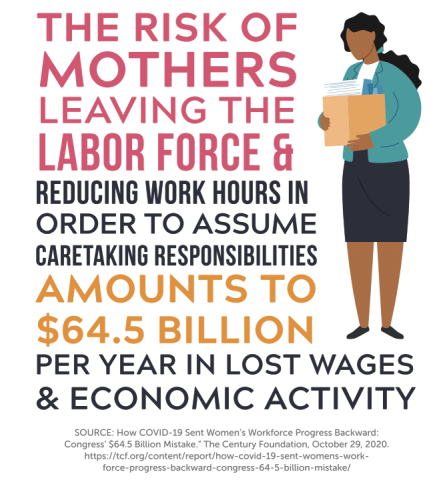 Child care MUST be a priority!
A recent report shows that nearly half a million families are estimated to be stranded without reliable child care, exacerbating the nation's worker shortage as parents continue to stay home. This is after an unprecedented global pandemic that our families and our economy still need to recover from. The kicker to all of this is that already, pre-pandemic, more than 1/2 of families lived in child care deserts without safe, nurturing, affordable options to begin with! On top of ALL this, though it seemed like the labor market made positive gains this past January, it turns out that 27 times more men than women joined the labor force during this time. That means women and moms are still being hit hard. Even with these modest gains, there were still nearly 1.1 million fewer women in the labor force in January 2022 compared to February 2020.
It's time to do address this, immediately.
Below are some stories highlighting the urgent need for Congress to include Child care and pre-K as part of any reconciliation package!
I ran an in-home daycare for 15 years. People are desperately searching for affordable daycare and I gave it, never charging above what the state charged for subsidized daycare, even though I barely broke even and wound up owing debt to the IRS over it. I even took in a very disabled infant and didn't charge more, like other daycares would, because the family couldn't afford it. The need for affordable childcare is desperate and must be addressed. These children are brought into the world and deserve all the amenities humans receive, and good childcare, food and loving care is part of that.
– Patti, Anchorage, AK
Childcare is scary and nerve-racking as a childcare worker. I'm scared every day of being told of a child or parent having COVID and then having to get tested and quarantined, the scare of getting sick, the scare of not being paid during that time, it would be a domino effect that would have a devastating impact. It's also a big concern of not knowing what tomorrow will bring with enrollment being so low and no new families enrolling. The thought of the day 'we just don't have enough enrollment to get paid' is an anxiety-ridden reality every day. Being paid minimum wage and putting myself and my children at risk is unfortunately my reality every day.
– Danielle, Tucson, AZ
I am a first-time mom with a newborn. For the past few years, I have let my career take a backseat so I could complete my masters. Now that I'm looking to go back to work and finding a new job after having my baby and finishing my degree, childcare is a disaster. I already lived in a childcare desert. I'm in a rural area. My town does not have any infant daycare. The closest one is 45 minutes away. The informal childcare providers who work as babysitters/nannies often come from families with essential workers or children who may go to school later in the year. How am I supposed to keep my baby safe while also starting a brand new full-time job, hopefully from home? Taking care of a small baby is all-consuming, and I fear my career next steps will be severely impacted by the state of childcare during the pandemic. This isn't to mention the absurd cost of childcare in this country due to lack of government action and support. As someone who has a degree in early childhood education and has worked in it before, I'm also deeply concerned about childcare workers. This was already a crisis in my community and county, and now it is devastating.
– Elena, Pescadero, CA
Childcare is going horribly. I have been on waiting lists for a childcare center in the area that we can afford and will accept my child's age group since my second trimester of pregnancy. She is now 8.5 months old with no childcare still in sight. We cannot afford a nanny and are not willing to compromise for places with concerning levels of care to us. It is limiting my options to devote time to graduate school classes, conducting research, and possibilities to help my family out financially by working part-time. The child development centers on the bases near us are only serving essential personnel parents with childcare and all others able to serve my baby's age range are still closed completely. My husband is active-duty military, and we have no family support nearby to help us with any childcare support. It is possible I am now suffering from postpartum depression in part because of this pandemic, lack of support, and isolation occurring with the onset of this pandemic right after the newborn phase. It has been a strain on our family's emotional well-being. We need more care resources. Young families can not go on like this without care resources.
– Genevieve, Milton, FL
At the age of three, my child was declared developmentally delayed by specialists. As a result, he was accepted into the only preschool program in the area funded by public funds. There are a few other preschools in the county but are run by area churches that require membership in order to accept children into their programs. By the time he entered elementary school, my child was at the same level as other kids in his class. At the age of seven, he made it into the Venture program for gifted children. My child is a success story. Without the support of childcare professionals, he would've never made it.
– Julieta, Brandon, MS
As a full-time Air National Guard family, we do not live near a large military base, but still have childcare needs for our two toddlers. We have struggled to find quality, affordable care that compares to anything like what we had on Active Duty. We have waited on year-long waitlists for our boys and during that time only one parent could be on military orders at a time while we waited for placement. We had a nanny for a time since we had no other option, but her costs skyrocketed and we had to let her go. Childcare in our city is extremely hard to come-by and this isn't just for military members - this is for EVERYONE.
– Tiffany, Reno, NV
I moved to a new state just before COVID-19 hit. I left my job in January 2020 for the move which originated from a job opportunity for my husband. As a wife and mom of two children 4 and under, I had limited options and have now been without work for 1 year. We are making it okay for now but can't afford the costs of the limited childcare options it would take to go back to work let alone the added risks that it involves. We are unequally affected by the lack of childcare options and added household needs.
– Wendy, Tualatin, OR
I am a family child care provider who is unable to operate safely, but expected to remain open. Child care needs funding so that we survive this safely and are able to provide care for children once it is safe to do so. Our K-12 and secondary school teachers, staff, children, and their families were all protected. Child care was thrown under the bus with a patronizing pat on the head saying "you are essential" yet we STILL are not recognized by society as essential workers. We are paid poverty-level wages and no benefits. These first 5 years are the most important for development. Our relationships with the children in our care will support the healing from the trauma of this pandemic. Yet, we are ignored, forgotten (except when being begged to stay open you know so those essential workers can work), and underfunded. We need real investment now and in the future, so our country can fully recover economically. We had lost thousands of programs since the 2008 recession and still hadn't recovered and this happened. What will happen to the children? What will happen to their parent's ability to choose how much they want to work and provide financially to the finances of their family
(disproportionately on the mother)?
– Corinne, New Glarus, WI
"I've had to quit both of my part-time jobs to care for my children while my husband works in our bedroom. We are grateful to have some income but we need assistance as we have to support our kids and pay our mortgage with one paycheck and this is not sustainable."
– Sarah, Seattle, WA
As a working mom of two finding quality child care was a priority for me. I needed my children to be in a safe, nurturing stimulating environment and I was lucky to be able to find such places for my children. As a kindergarten teacher of 15 years, I can also speak to the needs of the children walking through my classroom door each fall. Our students need places where they can get early learning foundational skills in safe, nurturing, and stimulating environments. Language, reading and early math skills are invaluable to children. Experiences with other children, reading books, singing songs, fine motor, gross motor activities are just a few that can be gained in quality programs. It used to be said that 'everything you need to know, you learned in Kindergarten.' We need to give children a leg up before they even get there, to ensure their future success!
– Michelle, Shepherdstown, WV