Chicken From China in U.S. Schools and Markets? 313,000+ Say NO!
Beginning in January, more than 300,000 people – moms and dads just like us – who care about the food they eat and the food they feed their families signed a petition asking federal officials to keep chicken from China out of our supermarkets and school lunch.
The petition was directed at President Obama, Agriculture Secretary Tom Vilsack, and leaders of the Senate and House appropriations subcommittees with responsibility for agriculture issues.
Two months and 313,000 people hailing from every state in the Union later, what did these elected and appointed officials say? What did they do?
Absolutely nothing.
In government classes at every age, our children are taught that elected officials are responsive to their constituents.  We elected them, so they want to hear from us.  Writing to Members of Congress about upcoming legislation, current events, and issues of concern is how our representative democracy is supposed to run.
And, in our harried lives today, signing a petition is often how we choose to participate in issues that matter to us.  But, that doesn't seem to matter to government officials.
Conversely, after receiving a petition from a food blogger's website with 57,000 signatures decrying the use of the "yoga mat" chemical in their bread, Subway pledged to remove the troublesome substance.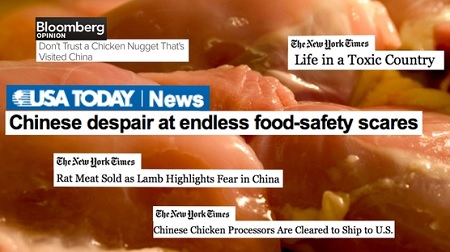 Troublesome also aptly describes China's record on food safety:
More than 300,000 babies in China were sickened and six died when melamine was intentionally added to milk powder used in baby formula.
Chinese officials shut down two chicken farms, one of which supplied McDonalds and Kentucky Fried Chicken outlets in China, because the chicken had high levels of antibiotics.
High levels of mercury were found in Chinese baby formula.
More than 16,000 pig carcasses dumped in tributaries of the Huangpu River.
And, more than $1 million worth of rat and other small mammal meat sold to Chinese consumers as lamb.
But, the disasters are not always contained within China's borders. 
For years, the United States allowed China to import poultry products into the United States for pet food.  Since 2007, approximately 600 U.S. dogs and cats have mysteriously died, and 3600 have been sickened, from eating pet treats that contain chicken or duck from China.  Testing by the New York Department of Agriculture found five different antibiotics in some of the pet treats: four of the five are not approved for poultry production in the United States and the fifth one was found at eight times the allowable levels.  This pet treat issue has been called "the canary in the food safety coalmine."
Ignoring the warning signs, our government is taking steps to allow poultry from China in American grocery stores and school cafeterias.
Clearly, 313,000 signatures are not enough.  So I ask you to take action.
Sign the petition begun by CFI's Barbara Kowalcyk and two food system advocates on change.org.
Write a personal letter to your member of Congress about this issue and urge your elected officials to learn more at a Congressional briefing in early April with Barbara and co-petitioners Bettina Siegel and Nancy Huehnergarth.
Share this blog and the petition on your social media outlets and ask your friends to do the same.
313,000 people seems like a lot to me.  But, maybe we need 314,000 to get these lawmakers' attention that poultry from China should stay in China.  Join us and be the voice that makes the difference.
Click to sign the petition to keep chicken from China out of American schools and supermarkets.