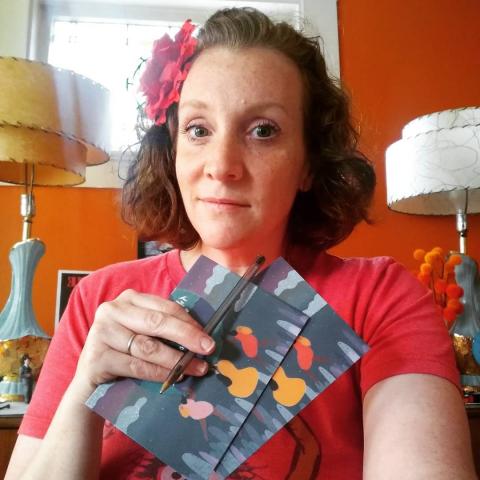 Check out my voting plan, then make yours too!
Voting is our civic duty- one of our most sacred roles as Americans - and for this upcoming election it feels as complicated and confusing as getting out of a corn-maze.
In the midst of a global pandemic we need to be mindful that going to vote in person can be dangerous to ourselves or others if we don't mask up and prepare ahead of time. Make your plan. Each state has different procedures and protocols about what you need to bring to vote and to register to vote. It is important to be prepared.  
Due to insecurities about the postal service, the in person voting lines might be long, so if you have to get back to work after you vote, plan for extra time.  I have spoken to many people who have taken time off from work to be able to Vote on November 3rd. 
Plan plan plan.  Bring your mask, a little hand sanitizer, and dress in something you can remove or bulk up… November can be cold and rainy if you're in the northern part of the country and based on the lines being shown for early voting, you could be in the elements for a while.
If you or someone you know is impacted by disability and needs information on the compliance guidelines that each polling location should be following as well as the voting rights portion of the Americans with Disabilities Act, you should review this information:  https://www.ada.gov/ada_voting/ada_voting_ta.htm 
Voting by mail is safe. This girl has already filled out the ballot and mailed it back to the city clerk. My ballot has been checked off as received by the Secretary of State's office website.
In NH we can check the status of our ballots at the website for the Secretary of State. If you have questions about your mail-in voting process, start there- like RIGHT NOW! 
Search up your state name and secretary of state office website. Most have all of the information that you will need and if they don't have it online there will be a phone number for the office that you can call. 
Some states will allow you to fill out your mail in/absentee ballot and return it to the City/Town Clerk.  Check their website or call them directly to find out if this is an option for you.  Another option that has been available is to go in person early to your City/Town Clerk, request your ballot, fill it out (in your car would be ideal) and return it.  All of this most likely will require your ID or voter Id so prepare to have it easily accessible.
Finally- early voting!  Many states, in an effort to relieve the overwhelming lines on Election Day offer early, in person voting.  Again, a quick visit to your Sec. of State and/or City/Town Clerks websites can help you determine if you're eligible to do so. 
Whichever method you choose, make a plan and a back up plan with solid facts to make your November 2020 voting experience safe!
Some resources that are out there for all voters: 
https://www.ada.gov/ada_voting/ada_voting_ta.htm