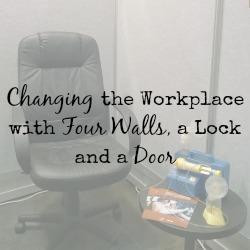 Changing the Workplace With Four Walls, a Chair and a Lock
I recently had the opportunity to attend the Society for HR Managers Conference (SHRM) here in Orlando. You might be asking yourself what I was doing at an HR conference. I was busy being giddy and excited over the fact that Cathy Carothers from Every Mother, Inc. and her colleagues were there to show HR managers how easy it is to set up a lactation room in their workplace. Why is this important?
It's the Law
According to the Office for Women's Health:
The law requires employers to provide two basic type of accommodations for most hourly wage-earning and some salaried employees: time and space in which to express milk.
Time: Reasonable break time for an employee to express breast milk for her nursing child for 1 year after the child's birth each time such employee has need to express the milk.
Space: A place other than a bathroom, that is shielded from view and free from intrusion from coworkers and the public, which may be used by an employee to express breast milk.
It's Easy
While I moseyed around, the traffic was constant in the booth. Managers stopped by first asking if the setup was for sale and then being quite taken aback by the simplicity of the setup.
The lactation space was designed to display for employers what a small dedicated space might look like. Many employers stopped by with their camera phone to take a picture of it to share with staff back at work.
Four walls, a chair and a lock. That's about all it takes.
It was busy nearly nonstop, and many moms expressed their how much they appreciated this being there with the support for them. When was the last time you went to a conference while lactating and had a sweet set up like this?
Over a thousand people stopped by the booth. Cathy shared her thoughts with me after the conference ended:
"We were amazed at the overwhelmingly positive response. We heard story after story of creative ways employers are supporting their breastfeeding moms, and how much it means to their employees. We also heard many, many stories of moms who appreciated that support. We sensed that a real shift has occurred among employers. Breastfeeding is no longer something they scrunch their noses over or tell jokes about. They seem to know that support is now the law, and they want solutions to help them comply."
I was excited to hear about the response and how Cathy felt that there was a shift happening in the workplace. I recall having to pump at work and being so happy that I was well informed (thanks to my lactation consultant) and could voice my needs clearly to my employer. I was super lucky to have had an employer that allowed me to do what I had to do as it related to nursing and caring for my infant child.
There are so many resources available. I am personally in love with the WomensHealth.gov YouTube channel. Check out the breastfeeding and back to work video:
Does your workplace make accommodations for moms returning to work after having a child?
For more information about laws protecting working moms, please visit WomensHealth.gov. Special thanks to this group of people that made this possible.
From left to right: Cathy Carothers (Every Mother, Inc.), Doris McGuire (Altarum Institute), Bob Swanson (Vision Way Media), Nancy Faul (Florida Breastfeeding Coalition), Ursuline Singleton (Project Officer, HHS Office on Women's Health) and Dr. Nancy Lee (Director, HHS Office on Women's Health)
One area of lactation support that is getting increasing public attention is family leave. You can help Congress understand how vital the early weeks are to establishing breastfeeding by sharing your story of life with - or without - paid family leave for either parent. Please click below to share your story.