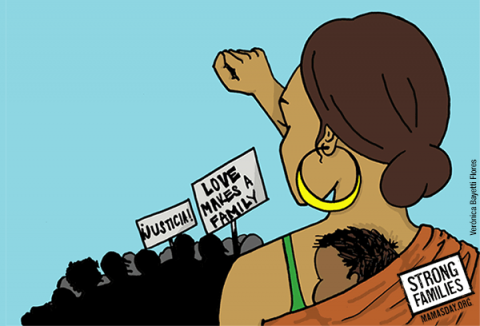 Celebrating The Moms of Action This Mother's Day
Reposted from Role Reboot where it originally appeared.
When mothers get angry about the state of their neighborhoods, cities, nations or earth, they have always been on the front lines for change. Let's celebrate them this Mother's Day.
I have a conflicted relationship with Mother's Day. I have never been a fan of the prim flowers-and-candy style of celebration. The holiday reduces women who are mothers to a smile and a hug and not much else. Mother's Day has become a day to idealize a neat and pretty vision of motherhood that most of us know is rarely the reality.
Just so I'm clear for this Mother's Day and future ones: I'm not opposed to breakfast in bed or a massage. I have a drawer devoted solely to my collection of crayoned "You're the best mama in the world" cards made by my son and daughter over the years. Every one still makes me teary. I am fully in support of a day devoted to a celebration of mothers (and, yes, to the fabulousness that is me). But I'd also like to honor the beautiful, complicated mess of motherhood, the explosion of emotion and sensitivity that blows my heart wide open every, single day and feeds my desire to want to make the world a better place.
In other words, I'm a tattooed, social justice warrior-mama who loves her chocolate and flowers.
On the first Sunday in May, we celebrate a two-dimensional image of motherhood, a glossy picture of perfection. But here's the truth: Becoming a mother can make even the apolitical and low-key among us attuned to the state of humanity in a way that we may not have felt prior, and lead us to speak up, advocate, and take action to change that which we see as unjust or harmful for the world we want our children to inhabit. When mothers get angry about the state of our neighborhoods, cities, nations or earth, we havealways been on the front lines for change, no matter what country we're in — from protesting wrongful wars to gun violence, from reproductive rights to racial justice.
So, if we all do it, why not celebrate it? Here are some of the mothers who have and continue to fight for good…
Julia Ward Howe
"In the name of womanhood and of humanity" and in response to the carnage of the Civil War, feminist, activist, and poet Julia Ward Howe made an impassioned plea for a Mother's Day. In 1870, Howe (who wrote theBattle Hymn of the Republic) decided she'd had more than enough of war and killing, thankyouverymuch, and wrote this proclamation calling on mothers everywhere to join together to promote peace and to put an end to allowing "our sons to be trained to injure" other women's sons. It didn't stick as theMother's Day (that was a President Woodrow Wilson special in 1914) but her commitment to end the violence, as a woman and as a mother, should be celebrated. From Syria to Palestine, the fighting continues and so does the call from mothers for peace.
The Mothers of the Plaza de Mayo
On Thursday, April 30, 1977, a group of raging mothers in white headscarves assembled haphazardly in the Plaza de Mayo — a square near the government palace in Buenos Aires, Argentina — to find out where their sons and daughters were, having been seized and detained after the violent military coup in 1976, and ultimately "disappeared" during what's called the Dirty War of Argentina. When police approached the group of mothers, Hebe de Bonafini, whose son was arrested two months prior, told the BBC in 2012 "… in response we started grabbing each other in pairs, arm to arm, and started walking in circles around the square." The Mothers of the Plaza de Mayo formed in that square; a group of Argentine mothers whose fierce dedication to uncovering the truth has remained strong for more than three decades now. This group of mothers continues to meet every Thursday at Plaza de Mayo, with a heart-breaking goal of finding out what happened to their sons and daughters all those years ago. But it's precisely because of these angry and grieving mothers with a commitment to justice, that a massive movement was spurred to highlight one of the worst periods of government repression in South America; one, in the name of the Mothers of the Plaza de Mayo and all of their missing children, we can never forget. Many of the mothers have grown old, and the group has splintered, but the fight for what's right continues.
MomsRising
From pay equity for women in the workplace to paid sick days, gun safety to immigration fairness,MomsRising.org is 100% invested if it impacts the lives of mothers in the United States. Like the Mothers of the Plaza de Mayo, the women who started MomsRising came together to fight for justice and ended up building a movement. I may have dreamt, once or twice, of quitting my job to go on the road stumping for the organization. MomsRising has achieved incredible gains in their quest to create a more equitable nation for moms and families: fair pay executive orders, raising the minimum wage in two cities so far, paid sick days in cities and states around the country, contributing to the passage of the Affordable Care Act, working to ban junk food advertising and the selling of junk foods in public schools and helping to pass bills that keep guns away from domestic abusers in three states. It takes a lot of fired-up mothers (and their allies) to make positive change like this happen, consistently.
Mothers of Children Killed By Police Brutality
Today, as I write this, women of color are filling the streets of Baltimore and other cities throughout the country to protest police violence with a rage born of a history of oppression and discrimination that continues to this day. I am thinking of the mothers of Amadou Diallo, Rekia Boyd, Trayvon Martin, Aiyana Stanley-Jones, Tamir Rice, Michael Brown, Freddie Gray and the mothers of all African-American boys and girls whose bodies and lives are criminalized by the systemic racism that infuses our society. These mothers stand up and speak out, with their grief,demanding that their cries for justice be heard, to a society that tells them every day that they don't matter. Yet, they not only speak. They advocate. They start foundations. They unite for change. Maybe the greatest way to celebrate Mother's Day this year is to acknowledge the ways in which African-American mothers continue to fight for justice for all in the face of a sexist and racist country that tells them, daily, that justice is not for them.
LGBT Mothers
It's really hard to find positive stories of lesbian, transgender, or bisexual mothers who are activists. There is growing support for LGBT rights in the United States, with same-sex marriage being addressed in the Supreme Court and the lives of transgender people becoming more visible in public life. But when you look for examples of contemporary lesbian or transgender activists who are mothers, there's a shameful lack of accessible information. I'm grateful that GLAAD has a "Mother's Day" Resource Kit to encourage more and deeper, positive coverage of the lives of LGBT parents: "The lives of lesbian, gay, bisexual and transgender parents and their families are often absent in Mother's Day coverage since print and electronic press reports often focus solely on straight parents. GLAAD encourages journalists to include lesbian and transgender families in their coverage of Mother's Day." Even though the kit is for journalists, it's a great resource to encourage a more expansive view of Mother's Day.
Shonda Rhimes
The writer/director/producer and mother has had an unmatched influence on the ways in which we view women — and in particular, women of color — on television. As Ava Duverney said a few weeks ago at a Women in the World event for female filmmakers, "When a woman makes a film, that's a radical act." So, yes, Shonda Rhimes simply being a successful writer and director in the entertainment industry, is to be praised.
Kavita Ramdas
She is the former CEO for Global Fund for Women and understands, with her whole being, thepower of motherhood, worldwide:
""Globally, women's movements have also used the power of mothering and the passion to sustain the next generation to push for an end to militarization, war, environmental destruction, and many other forms of violence. So peace in Liberia came from mothers who refused to let their children be destroyed in a never-ending civil war. Education for girls in Afghanistan persists because brave women refused and still refuse to be intimidated by the Taliban as they provide access to schools. Critical environmental campaigns have been launched against pesticide use by women in China demanding a new way of farming that does not lead to birth defects. Sexual violence against girls in Zimbabwe's schools is challenged by teenage girls and a teacher who refused to accept that girls and women should be expected to trade sexual favors in return for access to literacy and economic independence."
So, yes, mothers are a force to be reckoned with. And I want to see Mother's Day celebrate our power. But this post is meant as a taste, a dip-your-toe-in-the-waters-of-mama-activism, so feel free to leave more amazing individuals and organizations in the comments, below. But, to be clear, I'm still hoping for some chocolate on Sunday.