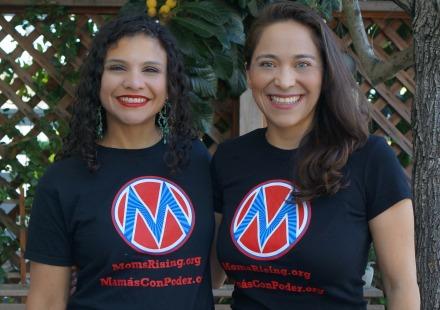 After countless hours of planning, writing and a lot of behind-the-scenes work, we are pleased to unveil MomsRising's new Spanish-language website for the Latino community, MamásConPoder.org!
As politically aware mamás and Latinas, we are so proud to have helped create this space and engage with others on the issues that most matter to our families and our communities: paid family leave, fair pay, open flexible work, fair immigration reform, toxins-free environments, health care for all, affordable and high quality early childhood education, earned paid sick days for all workers, gun safety and nutritious foods for kids.
Ever since our childhoods, and especially after becoming mamás, the need to organize our community for positive change for families has never been more apparent. Elisa was raised by a Cuban father and Puerto Rican mother in Miami, Florida, where she saw firsthand the power of organizing and making sure a community's voice was heard by elected officials. As a mother of two and campaign organizer with MomsRising / MamásConPoder, she feels grateful to put her thoughts and experiences into action.
As an immigrant from Mexico and a mother of two, Xochitl became aware of many of the challenges faced by mothers in this country, for example, not having automatic access to paid maternity leave or affordable healthcare. She is a Fellow at MomsRising working on Spanish language initiatives and is committed to advocate for a stronger country and a better future for all mothers and chidren, including her two U.S.-born sons.
As part of the MomsRising team, we know that we are only as strong as our grassroots membership, and it's going to take all of us to pressure our elected leaders to make the changes we would like to see. We believe that only united can we move forward and today we are inviting you and your familias to join our community at MamásConPoder.org.
Very much like MomsRising.org, members of MamásConPoder.org will regularly hear from our team on ways to take action online or in person on issues of importance to families -- all in Spanish! Ever since the organization's inception in 2006, MomsRising has celebrated many victories on the federal, state and local levels thanks to our members who made sure our voices were heard.
We look forward to more wins in the future with our newest members at MamásConPoder. Many thanks for joining us – and onward and forward!