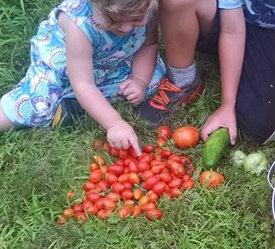 Celebrate Tomatoes! Two easy recipes for #TomatoWeek (GIFs!)
Love tomatoes? Then this is probably your favorite time of year. Tomato plants are bursting with ripe fruit, and even the most ambitious tomato-eater can have a hard time putting it all to good use.
I really love growing tomatoes … the smell of the plants and the general abundance of the fruit always makes me feel like a happy and champion gardener.
Check out two of my family's favorite tomato recipes below. We're Italian and my kids love pasta, so we go through gallons of pasta sauce each year. We also love cheese, so the Caprese Salad is a particular favorite as well.  I'll admit we're not huge fans of raw tomaotes, but these two dishes can appeal to even the pickiest of tomato customers.
Basic Marinara Sauce
Source: adventuresoncehad.com
My mom makes homemade sauce, which is incredibly easy and includes just a few basic steps. 
Find some yummy tomatoes. Any variety will work. You'll want 10-12 medium-sized fruit, which is about 3-4 pounds. 

Cut out the core, blanch and peel tomatoes. To blanch: cut an x into the bottom of each tomato, and drop them in boiling water for about a minute/ until the skin starts to wrinkle. Move them in an ice water bath using tongs or a slatted spoon and peel skin off starting at the x.  

Chop the tomatoes, roughly if you like a chunky sauce. You can also puree them if you like smooth. I actually try to remove most of the seedy goop at this point, but many folks don't go to the trouble. 

Meanwhile, get the sauce started by cooking chopped 3 cloves garlic, 1/2 an onion, and some salt and pepper in olive oil for about a minute. These quantities are purely to taste.  

Add your chopped tomatoes to the onions and garlic, and throw in a hand of chopped basil. Let it cook down for about 30 minutes, and/or until the sauce is reduced by about half. 

As always, taste as you go, and feel free to add yummy extras like sautéed mushrooms and peppers!
Try freezing a few batches to use throughout the winter. Tomato sauce can be canned too, but follow a recipe specific for canning so you have the right about of acid in your jars (canning recipes will often suggest adding lemon juice). 
Not good technique for cutting tomatoes. Source: SOURCE MYWORLD-DISNEY.TUMBLR.COM
Caprese Salad
Potentially the best salad out there, as it's provides a bold, heavy and unapologetic dose of tomatoes, mozzarella cheese, basil and dressing. Hello! It's incredibly easy to make, too. 
Slice your tomatoes and cheese into thick slices. 

Layer them on your plate, tucking a whole basil leaf between each layer. 

Drizzle in olive oil and balsamic vinegar, and give it a gentle sprinkle of salt and pepper. You can also try a balsamic glaze, which basically involves cooking the vinegar over a low heat for about 15 minutes until it thickens. Try it with at least a cup or two of vinegar, to enable it to cook down without burning your pan.
That just leaves the final question, which recipe to try first?
Source: alluck on Imgur.com