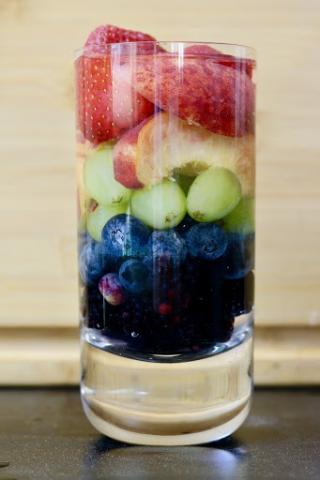 Celebrate Pride with Rainbow Snacks
It shouldn't take Pride Month to talk to our kids about the impact that LBGTQ people have had in our communities, country, and the world. But now's as good a time as any, since this month the rainbow flags are flying high and proud, and you can't scroll through your feed without seeing rainbow-themed t-shirts, layer cakes or hairstyles. 
I'm a mom, an activist, and a gardener, and my medium for sparking conversations is food. Food is used in nearly all gatherings as a means to bring people together, to celebrate! And what is more worthy of celebrating than love? 
We probably don't really talk about love as much as we should with our children. Sure, we say "I love you" all the time, or "I love to watch you dance" or some variation. But do we really ask them what they think love is? Why it matters that "love is love"? 
Photo by Megan Grocki
Kids ask A LOT of questions, and one of them might be why the rainbow flag is the symbol of the LBGTQ community. As the symbol of gay pride and activism, the rainbow flag illustrates that diversity makes the world more interesting and beautiful. You could ask them to imagine what it would be like if the whole world was red and watch their head tilt and brow furrow! Or even more outlandish, imagine that you could only eat green food?!
Photo by Megan Grocki
The original rainbow flag debuted at the San Francisco Gay and Lesbian Freedom Day Parade on June 25, 1978. According to the Museum of Modern Art in New York City, Gilbert Baker is credited with the flag's design and is said to have seen rainbows as a "natural flag . . . from the sky." The now universal flag uses six colored stripes with specific meanings: red for life, orange for healing, yellow for sunlight, green for nature, blue for serenity, and violet for spirit.
Another timely story is the 50th anniversary of the Stonewall Uprising, which galvanized the gay rights movement. Violence and discrimination are difficult topics to discuss with kids but knowing a little about the history of the LGBTQ community's struggle can give us all context for how far our country has come, and motivate us to continue pushing for progress. Stonewall: A Building. An Uprising. A Revolution by Rob Sanders, Illustrated by Jamey Christoph is a story about these events told from the perspective of the Stonewall Inn building itself. It highlights this significant moment in the LGBTQ movement and acknowledges the effort and perseverance of the gay community during that time. It also provides extraordinary inspiration to keep vigilant in the quest for equal rights for all.
However you choose to talk to your child about Pride Month and what that really means, the keys to the conversation are awareness, action, and acceptance. And having a rainbow-themed snack certainly won't hurt!