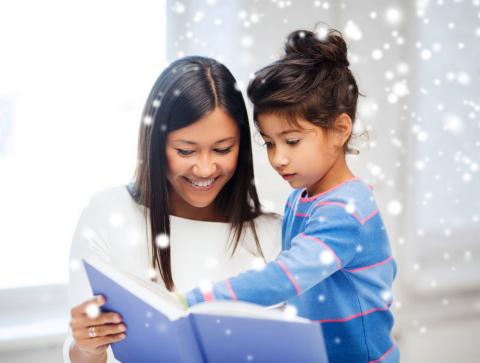 Celebrate Holiday Traditions With #MomsReading
As the Holiday season approaches, it is the perfect time to explore other cultures and traditions with your child. How? We've got you covered! Below are some book suggestions and fun activities that will help strengthen your child's social awareness skills. Social awareness is one of the five social-emotional development skills as listed by experts at CASEL. For more on what social-emotional skills are, check out our first blog post in the #MomsReading series.
While there are endless possibilities for books to read and activities, below are some of our top picks. Share any your own favorites on Facebook and Twitter using the #MomsReading hashtag, and let us know what books your family is enjoying and how they are helping your child learn about various cultures and traditions.
Books for your holiday reading list!
Read this! Read Daddy Christmas & Hanukkah Mama about a two-tradition family. The book talks about bridging cultures and the importance of respecting diverse beliefs and traditions. Common Sense Media says that after reading, ask your child about your family's holiday traditions. Ask them what makes this book different from other holiday books and movies you've seen. Talk about how the family blends their traditions and how it works.
Read this! Read Li'l Rabbit's Kwanzaa, a story inspired by Brer Rabbit, a character from the African-American folklore tradition that works to capture the core meaning of Kwanzaa—coming together to help others. After reading the book together, talk to your children about the history of Kwanzaa and how it is a celebration of African American heritage and culture.  For families who are planning to celebrate Kwanzaa, you can talk about what you will be doing on each of the seven days and how you honor the seven principles in everyday life.
Read this! Read 'Twas Nochebuena, a story that incorporates dual language learning and Latino traditions as a family prepares for their Nochebuena celebration. After, ask your child what they learned about the tradition of Nochebuena.  You can also discuss how the celebration in the book compares to your family's Christmas Eve (if you celebrate it) or ones you've read about.
Read this! Read Golden Domes and Silver Lanterns, a book full of breathtaking illustrations that celebrate the beauty and traditions of Islam for even the youngest readers. You can use the illustrations in the book to clarify certain words, which may be new to some children. Where possible use open ended prompts like " Tell me what's happening in the picture". After reading, talk about different elements in the celebration. What foods did they enjoy and what colors are represented? Relate this back to your personal holiday traditions.
Fun Holiday Activities
Do this! Head into the kitchen and make a special dish that is served during the holidays in a culture other than your own. Maybe it's plum pudding or latkes or buñuelos? Regardless of the origins, food can have a deep connection to how people celebrate a holiday, so cooking some of these special dishes with your kids will be a great experience.
Do this! On a piece of poster paper, write "Our Favorite Holiday Traditions" and define the word tradition under it. Talk with your kids about your favorite tradition and tape a symbol of it on the page or write a one word describing it.  Throughout the season, have guests who come to your house include their favorite traditions on the sheet and discuss with your child about the differences and similarities between each different holiday.
Do this! Do you have a friend that celebrates a different holiday than your family? Ask if you and/or your children can participate in one of their traditions with them! Before attending, go online with your child and research the history behind the tradition, making the celebration that more special.
Do this! A fun way to celebrate the Holidays is through song! Mommy Maestra has great tips on how music can help us acquire new (or deeper) language skills. A great book of songs can also be found in De Colores and Other Latin American Folk Songs.
What are your favorite holiday books or activities that celebrate traditions? Remember to share with us on Facebook or Twitter using the #MomsReading hashtag!