Take Action!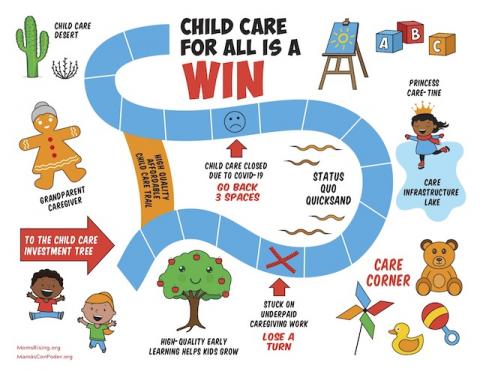 Care Land (the Game): Brought to YOU by MomsRising
Right now, Congress is rapidly finalizing the details of the budget that will determine how much funding we have for child care and early learning. This is the moment our movement has been waiting for. Because of your actions, texts and calls now and over the years, we collectively let Congress know that the lack of child care is NOT a game.
We know this -- we are living this! -- in these weeks of crunch time between summer and school: The lack of child care is not a game!
Tell Congress to leave the games where they belong, with the kids! That's right, by clicking on this link, you can download our exclusive CareLand board game, print it out, color it and (this is a great kid activity too!) send back to us to tell Congress: We need child care NOW!
This interactive and powerful action that's also fun for kids will further the momentum to let Congress know that we need sufficient funding for child care and early learning so that:
No family pays more than 7% of their income on child care

Child care providers are paid living, family supporting wages
Families can find affordable, high-quality child care no matter where they live
Can you help us win child care for families? Click here to take our CareLand coloring action that's also a fun way to engage kids!
It's so easy to take action. As easy as (and FUN!) as playing a game. See the easy steps below:
1. Download, print and color the image here. 
2. Write a small note on the back (if you want) telling them that we need them to invest in quality, affordable childcare for all by funding in the upcoming reconciliation package. You can use your own words or ours! 
**BONUS: Take a picture of you with your printed out game and Tweet it to your member of Congress (You can find them using this cool tool!) and tell them their constituents care about high-quality child care to the hashtag #SolveChildCare!
3. Take a fast picture of your printed out, colored game (cell phone pictures are great!) and email it to KeepMarching@MomsRising.org
4. Then put a stamp on it and mail it to: MomsRising CareLand, 3717 Boston St, #313, Baltimore, MD 21224
And that's it! Once we receive the games from parents, kids, families and caregivers from all over the nation, we will work to send a powerful message by delivering it to Congress to tell them to leave the games to the kids and robustly fund child care in the final reconciliation package!
We know play is so important for a kid's social, emotional and brain development. Now it can also be part of making a difference to ensure that our families are able to thrive.