Deliver a letter!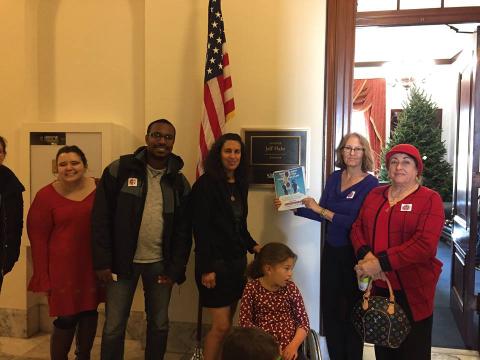 Can you take a letter saying NO to the #GOPTaxPlan?
This is an all-hands-on-deck moment!!!!
You have been speaking out by the thousands because you know the long-term effects of the GOP tax bill are atrocious. But the U.S. Senate passed their bill at 2 a.m. Saturday morning (why in the dead of night!?) and now the GOP leadership are moving to reconcile the differences between the U.S. Senate and House bill. 
We need you to speak out! We need you to show up…literally!
***Can you print out a letter and bring it to your local member of Congress' office by Wednesday, December 6th? (It's easy. Sign up here and we'll send you everything you'll need, including information about how to find your local office!)
Here's what's going on and why we need YOU NOW!: Things are moving fast! Super, duper fast because the GOP leadership knows this is an unpopular bill that our families don't like. Though both the U.S. Senate and House GOP plans increase the deficit, heavily benefit the wealthy and mega-corporations, and would lead to deep cuts to Medicaid, Medicare, and other programs they are quite different. The two plans must be reconciled into a final bill, which both chambers of Congress must vote on again (likely this week!). But given what they'll be working with, that final bill will still stink too.
This is where you come in! We want to raise a ruckus in your state! We have a short letter for you to sign and stories from moms around the country on how the tax bill will hurt their family and the economy. The whole thing is only 2 pages and we'll make it easy for you to print it out and deliver. We are hoping that you can bring it to your local U.S. Representative or Senator's office (or all 3!) and let them know that you are paying attention to this tax debate, you know what it will do to your family, and you want your elected leaders to, "Vote no!" 
(This whole tax debacle is being pushed by the Republican leadership, which have the majority in both the House and Senate, but it's still important to deliver the letter in-person even if you're member of Congress is on our side. They need to be able to tell other elected leaders that their constituents are against these GOP tax plans and we want to show their is a groundswell of action in the states speaking out against this tax plan.).
The only hope we have at this point is to make our voices heard loud and clear, like we did with the health care debate this summer! Our elected leaders need to know that we are paying attention and that we won't forget if they vote against our families, our healthcare, our children, and our economy.
***Sign up NOW to deliver a letter and stories to your local members of Congress and help put a stop to the GOP tax plan! (Once you sign up we'll send you an email with the small amount of material you'll need, including information about how to find your local office.)
How bad is this bill? Really, really bad! It will raise our national deficit by trillions of dollars, take away the healthcare of 13 million people, raise taxes on most working families, and lead to massive cuts to healthcare, nutrition, and education programs down the road—all in order to give massive tax cuts to the 1% and mega-corporations! The U.S. House's version of the tax bill is equally as bad—as well as raising the deficit in order to give permanent tax cuts to those that don't need it, it also gets rid of so many of the deductions that working families need to keep their heads above water like the medical expense deduction, the student loan deduction, mortgage loan deduction, and the ability for school teachers to deduct out of pocket expense for supplies. Both bills make it so you can't deduct state and local taxes from your federal tax return.
See why we need you to literally show up at your local members of Congress's office and deliver a letter and stories?
This is a high-impact action you can take on your own time near your house (although ideally before Wednesday, December 6th evening). Bring your kids along. Bring some friends. If you want to organize a larger group to go, that is great as well! We would LOVE for you to take a picture when you deliver your letter and send it to us and post it on social media using #MomsSayVoteNo.
***Make sure to sign up NOW to deliver a tax letter to your member of Congress' local office this week!
This is something anyone around the country can do, so once you sign up to deliver a tax letter to your local members of Congress, send this email to your friends and family and post the action link to Facebook so others can participate as well.
Thank you for standing up for our families, our future, and our economy!! You are making a difference.
P.S. While you are delivering your letter to your local Congressional office, MomsRising is going to be on Capitol Hill in DC on Wednesday doing a delivery as well. Can you sign the letter we'll be delivering on Wednesday?