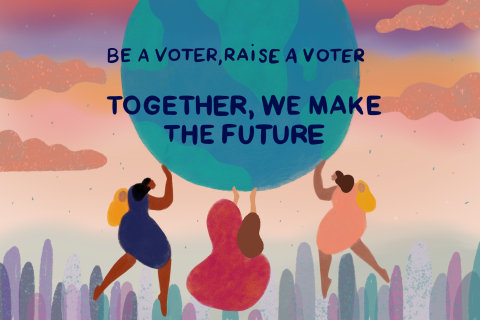 Can you help us send voting reminder postcards to 1 million moms?
The 2022 midterm election on Tuesday, November 8th is less than 5 weeks away.
From the streets to the ballot box, moms are making our voices heard and inspiring our kids and communities. This year, help us mobilize moms to vote for the future we want to see for our loved ones and ourselves! MomsRising has a super easy, high-impact, and FREE way for YOU to help get out the vote!
>>> SIGN UP HERE to receive a FREE packet of 20 eye-catching voting reminder postcards to fill out! (You can also request packets of 100.)
Our goal is to reach 1 million moms who don't always vote and need some extra encouragement! Can you help us make it happen?
CLICK HERE to place your order for FREE (and all postage covered) voting reminder postcards!
Research shows that handwritten notes are one of the most powerful ways to get an infrequent voter to the polls! [1]
Here's all the details: We'll send you a packet of pre-addressed, pre-stamped postcards along with some quick instructions. All you'll need to do is write a quick note of encouragement on each and drop them in the mail by October 21st.
*Don't wait! Sign up now to receive your FREE packet of 20 GOTV postcards to fill out!
Together, we are a powerful force in driving women and moms to the polls in 2022! THANK YOU!!!
 
[1] ArsTechnica: "Boosting the vote may be as easy as saying you'll ask"