Take Action!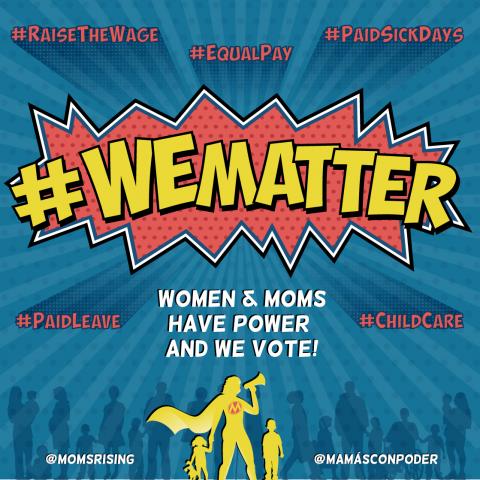 Can you hear us Congress? #WEmatter!
Last week I was driving my kids home from pre-school when I just had to turn up the radio. I was like, "Yes! They are singing my song!" But it wasn't Beyoncé's latest hit. It was a news story about how ridiculously long overdue paid family (maternity/paternity) leave is in the United States.
Then I got mad. And I am still mad because while I am thrilled that our "Mad Men" era workplace polices (unequal pay, lack of paid maternity/paternity/family leave, childcare that costs more than college, lack of paid sick days, the need to raise the minimum wage, and more) are getting much-needed attention lately, the fact is that not a whole lot is being done about it in Congress beyond talking.
But we can fix this. There is an election right around the corner and that makes now the perfect time to make sure that our elected officials in Congress and beyond know that we matter and we will be holding them accountable.
Women and family economic security issues are more than just political footballs and talking points. Our voices, and our votes, matter. #WEMatter.   
And #WE(really)Matter! Women are 53% of the entire electorate and we make 3/4 of all purchasing decisions in our consumer-fueled economy.
*Let's put our elected officials on notice: Sign our #WEmatter pledge to hold our elected officials in Congress accountable by telling them that when we vote (and we do vote in large numbers!), we prioritize family economic security issues and we expect them to prioritize those issues too. 
**We'll deliver this pledge to every member of Congress when they return to DC in September and again before the elections to let them know that not only are women critically important voters, we are also paying close attention to the work they do (or don't do!) on economic security issues like paid family leave (maternity/paternity leave); access to quality, affordable childcare; sick days; equal pay; food justice; and healthcare.
Together we'll keep the pressure on Congress to do more than just talk about these issues. #WEmatter and we want action! (Wondering why we're using a #hashtag? Read below in the PS for an explanation).
It's painfully obvious that today's workplace policies fail to meet the needs of American women, families, and our economy. Our national "floor" for workplace policies is way too low. The reality is, when the United States is one of four countries in the world that doesn't provide paid family leave after a new baby arrives, something is wrong. When childcare costs more than college, something is wrong. When moms and dads working full-time on minimum wage are living in poverty, something is wrong. When maternal status is a greater predictor of wage and hiring discrimination than gender, something is wrong. When having a baby is a leading cause of poverty spells for families in this country; something is VERY wrong.
The good news is that study after study shows that passing family economic security policies like access to paid maternity/paternity/family leave, affordable childcare, and a living wage boost both families and our national economy. Businesses get a boost too with greater worker productivity and retention. It's a win-win-win.
Make sure Congress knows they could be winning, too. (They could use some wins, that's for sure).
*Pledge TODAY to make sure our elected officials in Congress know #WEmatter, we vote, and we demand action on family economic security issues like paid maternity/paternity/family leave, equal pay, fair scheduling, affordable childcare, paid sick days, and access to healthy food.
It's time for us to raise our voices. And momentum is growing for change. More and more people are waking up to the fact that we have a problem that together we can fix.
#WEmatter and together we are a powerful force for women and families.
P.S. So, why use a #hashtag? Hashtags can be incredibly powerful and useful organizing tools that help amplify conversations, calls to action, and the sharing of information. They can also help contribute to cultural change needed to create the policy changes we want to see. And many elected officials pay close attention to them.
P.P.S. @MomsRising is proud to be joining a diverse and growing number of individuals, organizations and coalitions nationwide to generate even greater attention to -- and progress on -- the issues and policies that are of critical importance to the economic stability and success of women, families and the nation. We are coming together to remind lawmakers and people across the country that we are women and families, and the changes we need matter. 
Join us on Twitter on August 26th at both 1pm ET and 9pm ET using #WEmatter to tell Congress: We are women & families. We vote. The changes we need boost our families and our economy. 
Click here to send a tweet to help spread the word about August 26th!