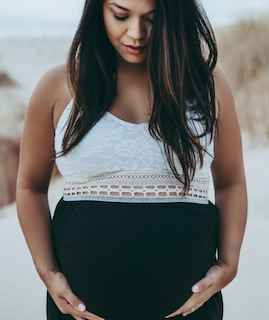 Calling California Families: RSVP to help shape the future of child care!
This year comes with new resolutions, but one of my goals has not changed: Continue using my Mom Voice to make our child care needs to be heard and prioritized. 
I am a mother of two and a full-time educator working remotely due to the COVID-19. Like many of you, I am continuously trying to figure out how to juggle the pressure of being 100% present at work while also having to meet my children's diverse needs. Sound frustratingly familiar? Let's talk about it. 
It's been 10 months since COVID-19 hit and child care has not gotten any easier for my family. Before switching to remote work prior to the pandemic, my partner and I relied heavily on my mother and sister's support for child care. We quickly had to figure out how to shift our child care needs while still ensuring we followed our social-distancing protocols and keeping my family safe. 
And my family isn't the only one struggling with child care during the pandemic. 
Right now, 72% of moms with children under 18 are in the workforce. And while the recent COVID-19 relief coming to our state's child care programs is a good downpayment to help alleviate the the strain on the system, it will be nowhere near enough to save our child care system if we don't see additional action ASAP. 
That's why we need to hear from you. We need to ensure that parents and caregivers are heard loud and clear so that solutions are built by families, for families! 
****RSVP**** to join our Family Friendly Virtual Listening Session, where we will come together to talk about our child care struggles amid COVID-19 on Saturday, January 23rd, from 10:30 AM-11:45 AM PT.
I enter into this year with new possibilities for change. That's why it is more important than ever that we use our parent voices and speak up.
People often think of childcare as a "personal issue" and something that we should "figure out" on our own. However, we know that creating systemic change is the best way to support our California families during this unprecedented time. Because of this, I would like to invite you to join MomsRising and me for an opportunity to share our stories to collectively amplify our voices to show elected leaders that child care is an essential need in our state and nation.
Are you interested in helping shape child care conversations in California? Share your story and speak to other members in the Los Angeles County area on Saturday,  January 23rd, from 10:30 AM-11:45 AM for our Virtual Listening Session. Kids and all family noises and needs are welcome!
**Can't make it? Take our online survey to provide feedback on some of the topics we will share in our virtual listening session. 
I hope that you consider joining me as we stand up for child care in California. Together we are a powerful voice for moms, children, and families!