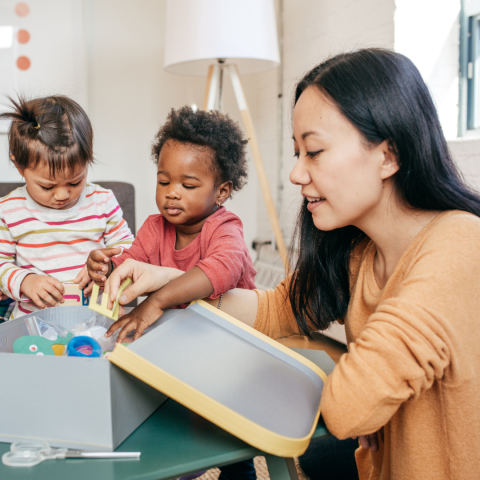 Calling all New Yorkers: We Need $5 Billion for child care!
I'm a mom from Queens, NY. I've always relied on child care to take care of my children while I worked outside the home. I know all too well how expensive child care is, and how many parents are left with few options that are affordable and in their communities. I was one of the unfortunate parents who lost their child care when our center permanently closed due to COVID. I know that families all over New York State are suffering – child care across our state is unaffordable and many times, not accessible. Our families deserve better.
Tell New York lawmakers that it is time to make bold investments in child care! 
Right now, New York parents and child care providers are facing another wave of the pandemic, with a surge in child and workforce absences, leaving providers struggling anew to keep their programs open and the children in their care safe. 
We need investments that honor and recognize the amazing people caring and educating our kids. As a parent who has relied on child care workers, I want the people that take care of my children to be able to take care of their families; that means, having access to living wages and good working conditions. 
That's why I am raising my voice to ask Gov. Hochul and our lawmakers to make a bold and meaningful investment of $5 billion dollars that would enable New York to take critical steps toward achieving universal child care.
Why $5 Billion? A meaningful investment of $5B would help ensure that the child care sector would do three things: 
Expand access to child care subsidies, prioritizing low-income families and families struggling with unemployment, homelessness, disability or other challenges. 

Allow child care workers to be paid living wages by investing more in compensation. 

Reimburse child care providers at rates that reflect the true cost of providing child care. 
NOW is the time to make transformative, life-changing investments in child care and pave the way for universal child care in NYS.
Parents all over the state are exhausted. We are entering the third year of the pandemic and investing in child care now is what we need to make sure that we have child care so that we can continue working. If our state leaders are serious about improving our economy and the quality of life of New Yorkers, they must invest in child care. When parents have access to affordable, quality child care, child care educators are well compensated, and children have access to safe, high quality child care experiences, the entire state benefits. Investing in child care is a win-win for New York. 
*Tell Governor Hochul to act NOW to make bolder investments for our parents, children and early care educators ASAP!
Investing in child care is long overdue and this is the moment to make it happen. Together we can help get New York on the path to universal child care.