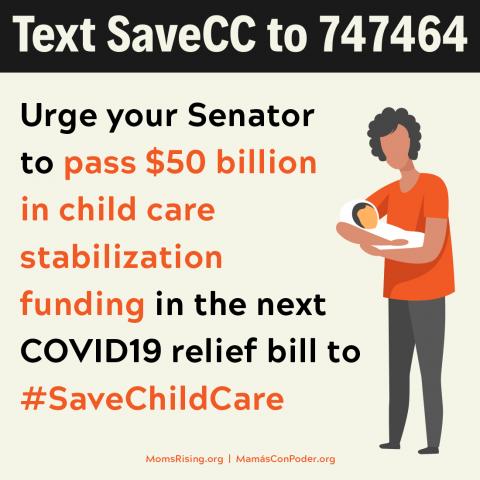 CALL your Senator to #SaveChildCare
First, the good news: Thanks to YOU and thousands of moms, dads, grandparents, caregivers, and people who support child care, the U.S. House of Representatives just passed (in a historic vote!) the Child Care Is Essential Act and the Child Care for Economic Recovery Act! These would ensure a $50 billion stabilization fund for the child care sector at a time when programs around the country are closing and the inability to access child care has become a national emergency. 
(Back in March, the crisis with child care was barely being discussed, but thanks to people like you speaking out, the tide is changing – and we need to keep that change moving forward!). 
→ Now that the U.S. House has taken action, we need the U.S. Senate to do the same!
We are making a BIG difference, but we're not there yet. We need YOU to take one very important action today: Call your U.S. Senators and tell them to include $50 billion in child care stabilization funding in the next relief package!
Text "SaveCC" to 747464 and we'll connect you directly with your U.S. Senators. 
As families continue to work from home with children or try to haphazardly piece together care, or leave the workforce entirely when working from home isn't an option, the child care industry remains on the brink of collapse, threatening parents' ability to work. 
That includes me, who you can see on PBS NewsHour with my toddler daughter who muted me at minute 2:05 of this piece discussing the threats to childcare (the struggle is real!).
In fact, a recent study by the Center of American Progress shows that the situation is particularly dire for families with infants and toddlers who, pre-pandemic, faced a market with only enough licensed child care to serve 23% of infants and toddlers. Moms like Nicole in Pennsylvania, shared: 
"I am a nurse and have been working nights and weekends while my husband works weekdays. We don't have family that can help us permanently. This is not a long term solution. Our daycare closed permanently. I can't go to part time because I carry the benefits and my husband's job doesn't allow part time. No one wants to watch our kids because I am a nurse. Our possible new daycare continues to delay opening. We are at a loss, exhausted, and our children are in need of more."
With more than 23 million children under the age of five in the US and the families of more than half them, like Nicole, relying on some form of child care, this potential shutdown would have devastating impacts on families and our economy if the Senate doesn't act now. 
***Take a few quick minutes now to call your U.S. Senator from California and tell them to #SaveChildCare! We make it super easy for you –> Just text "SaveCC" to 747464 and we'll connect you directly with your Senator's office (you can even call again and we'll connect you with your other Senator's office).
Speaking out this week, when so many others around the country are doing the same, will send a powerful message to U.S. Senate leaders.
After you make your phone calls, please forward this email to five friends and ask them to call as well so you can double down on your impact! We need as many people as possible speaking out to make sure our elected leaders know that families need child care now and when this pandemic is over and that we need them to take immediate action to save child care.
You can also join us on Twitter by going to #SaveChildCare and share why child care is critical for your family and community! You can tweet your child care story to your Senators or use this social media toolkit to speak out on this important issue.