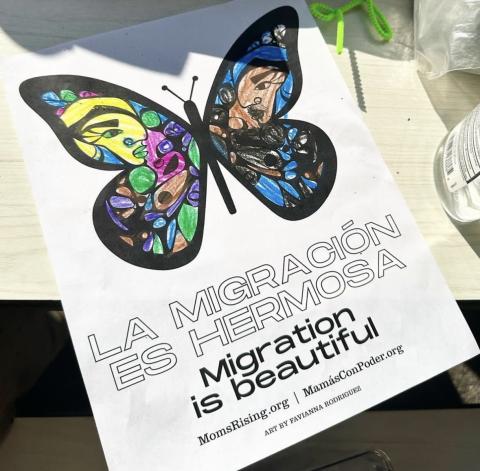 Butterflies and Other Ways to Say Migration is Beautiful
June is Immigrant Heritage Month but as a proud daughter of immigrants, I celebrate the contributions of immigrants EVERY DAY! And as a mother to children who are children of an immigrant, and grandchildren of immigrants, it is really important for me that they know how important immigrants are to our communities.
Immigrants are integral part of our communities- they are teachers, nurses, bus operators, taxi drivers, deliveristas (food delivery workers). Immigrants take care of our children, they pick our food, they are home care attendants, they are ambulance drivers... you name it- and immigrants are there. They show up for their communities day in and day out. 
Recently I got to share the Migration is Beautiful butterfly image with my daughter's dual language kindergarten class. This image is a perfect one to color and put in schools to celebrate diversity, immigration and to remind folks that immigration is beautiful-- and to teach our kids to be tolerant, welcoming world citizens. 
Here are some ways you can use this beautiful butterfly image as a visual statement that you support immigrants: 
Bring butterflies to your gatherings to show you support immigrants! It's a great activity for kids and adults alike! The art work was created by Favianna Rodriguez and butterflies have become a symbol for migration. Download the butterfly image here. 
Share the image with your children's summer camp, and child care center teacher and school administration and create a class or school wide campaign to highlight that migration is beautiful and immigrants are welocme in your school community. 
Share your immigrant story! Narratives matter. Too many times we see immigrants being portrayed in negative ways, so it's important to challenge those narratives. At MomsRising/MamásConPoder we're always looking to share positive stories on immigration, share yours via this link. 
Sign our action to show your support for immigrants. Click to sign our action here. 
Let's celebrate immigrants not just in June, but every day!