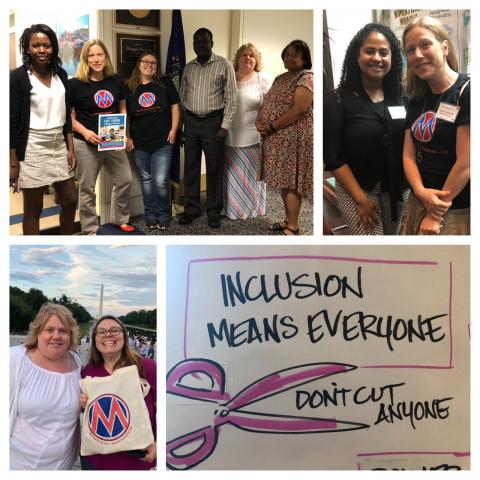 Building Partnerships at the Grassroots Movement for Child Care and Early Education
Last week I had the amazing opportunity to press pause on the day to day responsibilities of raising four young kids and juggling my work as the affiliate director of the New Hampshire Association for the Education of Young Children. I flew to Washington, D.C. with some of my favorite MomsRising members and others who are working to increase access to quality, affordable child care in New Hampshire. We attended the first ever Grassroots Movement for Child Care and Early Education and it was POWERFUL. Not only were the workshops top-notch, with new and interesting content, but it brought home the power of partnerships. As one woman at my break out session summed it up: relationships equal results. 
By the end of our two-day stay, I had met some amazing people and had been able to connect face to face with folks I had previously only communicated with via email or admired from afar on social media. Our New Hampshire cohort had an opportunity to reflect on the New Hampshire state plan to spend the extra $4 million in Child Care Development Block Grant (CCDBG) funding and compare it to what other states are doing. It was exciting to be in the place where all of the advocacy around increasing the CCDBG allocation finally paid off. Now we have the awesome responsibility to ensure that the largest increase ever in early childhood funding goes where it is most needed- and to do that effectively we need to partnerships. We need to be sure that the voices of caregivers and families are at the table. We need caregivers and decision makers in the field who reflect the diversity of the young people they serve. We need the phrase "all children" to truly reflect all: including children who experience disability. 
----
You can be a part of creating a community-centered vision for child care and early education that values the youngest members of society and the people who care for them. Check out how your will be using the additional CCDBG dollars. This is the link to the draft NH plan https://www.dhhs.nh.gov/dcyf/cdb/documents/ccdf-plan.pdf. Ask people who are running for office about early education, and look for ways to join MomsRising efforts and with other groups to raise our voices.