Building Momentum on Unemployment Insurance
We are building momentum!
On Monday, the U.S. Senate passed a bipartisan bill that will restore federal unemployment insurance benefits to the more than 2 million people that lost these vital benefits since December 28th, when the program expired.
But our work isn't done yet…
Now it is up to the U.S. House of Representatives to make the final vote and we are this close to getting it passed! We need some MOMentum to get this one to the finished line. The more of us who write to our leaders, the faster this policy will (finally) pass!
I'm sending a letter now. Will you? You can write your U.S. Representative today and tell him/her to "Stop leaving the unemployed out in the cold. Extend unemployment insurance benefits now!" here http://action.momsrising.org/sign/ExtendUI/
We have heard from hundreds and hundreds of families about their struggles with unemployment and the stress they have been going through since losing their benefits. Moms like Norah from Las Vegas who wrote:
"My husband lost his job after being employed for years in construction. He no longer has health insurance therefore, he can't get sick. Without extended unemployment benefits, I don't know how we will survive to make ends meet. We will need to eat, pay bills, and pay the mortgage to keep a roof over our heads and support our daughter who is diabetic and insulin dependent."
It's long past time for Congress to pass the unemployment insurance extension!
*Help us push the unemployment insurance benefits extension over the finish line by writing your U.S. Representative today: http://action.momsrising.org/sign/ExtendUI/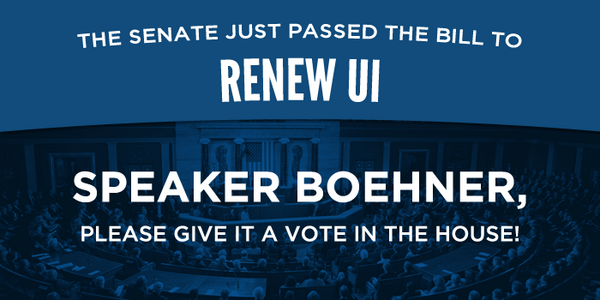 Unemployment insurance allows struggling families to pay the rent, purchase food and medicine, and pay the heating bills during what has been a historically cold winter. This program not only boosts families, it also boosts our economy because studies show that these unemployment insurance funds are quickly spent in our communities at local stores, for local services, in a positive domino effect throughout our consumer-fueled economy.
It gets even better. Unemployment insurance not only boosts our economy, it also keeps families out of poverty. In 2012 alone, unemployment insurance kept more than 1.7 million people, including 655,000 women and 446,000 children, from falling into poverty. [2]
Will you join me in keeping the momentum going? Write your U.S. Representative today: http://action.momsrising.org/sign/ExtendUI/
We need to make sure that the voices of moms and dads echo through the halls of Congress, so after taking action please make sure to post the action link to your Facebook and Twitter page.
Thank you for standing with us on this important issue, standing up for struggling families, and standing up for the economic health of our nation!