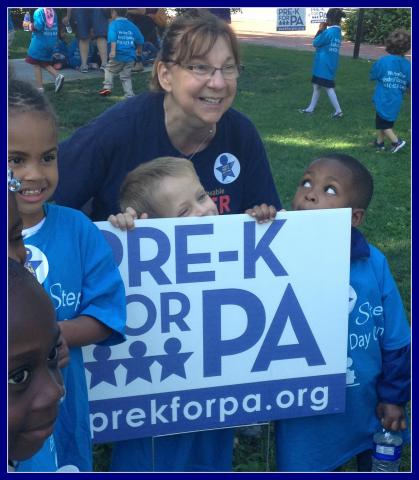 Building Blocks for Early Learning: Pennsylvania Edition
Blocks are one of the first toys for most American children. As an early childhood teacher of over twenty five years, I can not count how many building blocks I have helped to stack, sort, count, name, knock over and pick up. They are a fundamental piece to the foundation for lifelong learning. Through block playing children learn how to play cooperatively; how to plan strategically; how to take responsibility; and how they can hurt if not used carefully.
Currently the United States, and my home state of Pennsylvania, is trying to assemble the necessary building blocks for a sustainable future for our youngest learners.
Today Momsrising.org encouraged US Senators and US Representatives to play with the giant blocks at the Capital in hopes of strengthening the early learning foundation of all children. You can learn more about America's Strong Start here.
Yesterday, Philly LOVES PreK was an opportunity for early childhood proponents (and the youngsters themselves) to demonstrate why investing in early learning is critical to the children and to the commonwealth. Supported by the efforts of early education organizations like The Delaware Valley Association for the Education of Young Children, Pennsylvania Association for the Education of Young Children, Pittsburgh Association for the Education of Young Children and many others, a statewide initiative is afoot focused on increased access to high quality early learning. As it turns out, preschoolers have a wide base of support. According to recent data shared by PreK for PA the majority of voters in the state support increased funding for high quality early learning programs. (Formal Poll data to be released Friday September 19, 2014 - Check Back!)
  A local resident, Kevin, a retired U.S. special agent and childcare operator, from Glenside shared his thoughts on investing in early learning with the PreK for PA campaign:
"I'm a retired U.S. special agent, and have owned and operated a fairly large childcare center in Delaware County for about five and a half years with my wife. I have a hard time understanding how our country chooses to spend approximately $40,000 per year to house criminals, yet we have a hard time getting our state elected officials to spend $7,000 per year to ensure all children in Pennsylvania have access to high-quality pre-k and other child care.
For Pennsylvanians who want to support this initiative on the state level (or need more information) - visit www.prekforpa,org
Everyone can help all the children in our country receive high quality care by sending a message to your US Senator and US Representatives here:
http://action.momsrising.org/letter/Build_Kids_Up/?t=7&akid=5786.513114....