Brooklyn Grandmother Takes a Stand
You know Mary Ward
She is in all of our families. She is in every community. She's that neighborhood matriarch who knows everyone and everything about the community from way back when. Mary Ward has a lot in common with so many mothers and grandmothers living in working class communities of color. Children go to her for love. Neighbors go to her for support. And, predatory lenders go to her as an easy target.
Ms. Ward's neighborhood is my neighborhood, the Bed-Stuy area of Brooklyn, NY. Her home sits around the corner from mine in our working-class African-American neighborhood. Bed-Stuy has the reputation of being dangerous because of its higher than average crime rate. Many people would think that an elderly grandmother like Mary Ward's biggest problem would be getting robbed; that she might fall prey to purse-snatchers. They'd be right, but not in the way they imagine.
Purse-Snatching
Mary Ward didn't get robbed walking down a dark Bed-Stuy street. Well, not exactly. Her/our neighborhood is ground zero for loans made by Delta Funding, a purse-snatcher… I mean, a mortgage bank so bad that it has been sued by the Federal Trade Commission, the US Department of Justice, and US Department of Housing and Urban Development for violating the Fair Housing Act, the Equal Credit Opportunity Act, and the Home Owner Protection & Equity Protection Act. You get the picture, law-breakers.
The Department of Justice (DOJ) states that it sued Delta Funding to "vindicate the rights of persons whom the United States claims were injured by alleged violations of the fair lending, fair housing and consumer protection laws and regulations…and that Delta is engaged in the business of making subprime home mortgage loans; that a large part of its business is concentrated in the minority residential areas of Kings and Queens Counties, New York."
Before DOJ could file its suit, Delta Funding had already snatched over 5000 purses, mostly in New York City's black neighborhoods. According to the Department of Justice, Delta Funding targeted African American women for their bad loans. They also noticed, "African American female borrowers being charged more on average than white male borrowers were charged; and that the higher prices charged to African American females were not based on differences in risk of repayment." Mary Ward was one of their victims.
Anything for My Children
Like most moms, I'll do anything for my children. Mary Ward -- a mother, grandmother and great-grandmother-- is no different. In 1995, Ms. Ward needed money to pay lawyers working to help her gain custody of her great-granddaughter. Delta Funding offered her $82,000, including $10,000 in cash to pay urgent legal fees. However, when she closed her loan with Delta, instead of getting a check for $10,000, she got one for $1,467.51. According to Ms. Ward, Delta Funding kept $8,500 as part of their fees.
Ms. Ward took legal action to stop the loan, but the wheels were already turning, sealing the deal between Delta Funding and Greenpoint Saving Bank, her mortgage holder at the time. According to Karen Gargamelli, a lawyer from Common Law, a non-profit policy organization, Ms. Ward's $82,000 mortgage loan has now ballooned into an outrageously unaffordable $200,000. On Friday, August 19, 2011, the Kings County Marshal had orders to evict Mary Ward from her home of 42 years. Mary Ward took a bold stand!
A Grandmother Galvanizes a Community
Ms. Ward refused (and still refuses) to leave her home. Her story has captured the attention of local press, like The Patch, to media giants like CNN and the New York Times. Her home has become a fortress, surrounded by a cast-iron gate, lawyers from Common Law and organizers from the Take Back the Land coalition – including FUREE (Families United for Racial and Economic Equality), the Malcolm X Grassroots Movement, and Picture the Homeless. Community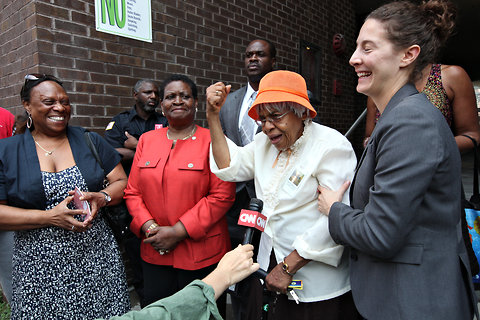 members who walk by either joined in the blockade or watch in awe, as over a hundred people stand down would be evictors in protection of one grandmother – one grandmother, who, in so many ways, has taken a stand for us all.
This post is part of the #HERvotes blog carnival.