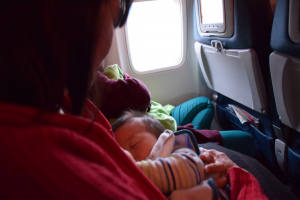 My job requires frequent traveling. As a journalist, I've been reporting from places such as quake-stricken Haiti, war-torn Mexico, and typhoon-damaged Taiwan.
These are challenging works. The biggest challenge, though, is collecting and transporting breast milk while traveling. After all, I'm more a mother than a journalist.
Lucky enough, America is a very breastmilk-country, in comparison to many of the countries and areas around the world. I never had a problem with carrying breast milk through airport security checkpoints, nor with  hotel staff members to storing my breast milk for me.
To collect, transport and keep my milk fresh while traveling, all I need is a breast milk pump, some sealed containers such as bottles or storage bags, and an insulated cooler with frozen ice packs.
Flying with these items is not a problem. According to TSA, liquids in limited quantities (usually 3.4 ounces) are safe to bring aboard an aircraft as a carry-on. However, breast milk is allowed in excess of 3.4 ounces in reasonable quantities for the flight. Mothers flying with or without their child(ren) are permitted to bring breast milk in quantities greater than three ounces as long as it is presented for inspection at the security checkpoint. Additionally, breast milk pump and ice packs are permitted with the same qualifications.
Personally I prefer to freeze my breast milk in storage bags, and then transport it in a cooler with ice packs as a check-in rather than as carry-on luggage. It's easier for me because I often bring a huge amount of breast milk home after each business trip. I can sometimes have 5 pounds of frozen breast milk home after a 2-day trip!
To keep breast milk fresh while traveling, I always try to stay in a suite when it comes to choosing a hotel room. A suite comes with a full-size refrigerator and is easier for me to store my milk. Unfortunately, a suite is not always an option. I never hesitate to ask for help when this is the case. Most of the times, the hotel staff helps me by storing the milk in the hotel's kitchen refrigerator.
I once stayed at a hotel in Westlake, CA where a suite was not available. None of the hotel rooms came with a refrigerator, not even a small, compact one. After explaining my needs to the hotel staff, though, they actually brought a refrigerator into my room. I was really grateful--I actually tipped extra and wrote a thank note to the hotel manager afterwards.
Transporting breast milk and keeping it fresh is not as challenging as trying to pump on a regular basis while traveling. My number one rule is to never allow anything to interrupt my pumping schedule - especially during a business trip. I always plan ahead of time and communicate with everyone I work with in advance, making sure I'll have the pumping sessions I need between meetings.
In those rare cases when I get to travel with my little one, I always breastfeed him while taking off and landing. The sucking motion helps to protect the baby inner ear pain caused by air pressure change.
Breastfeeding while traveling on business is tough but surely can be done. My little one is precious to me and making the extra effort to hang in there for the recommended 12 months of breastfeeding is definitely worth the trouble!