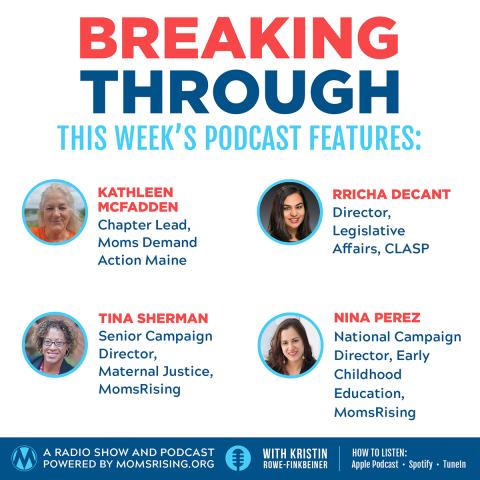 Breaking Through: Ending Gun Violence, Stabilize Child Care Now, & More!
Ending Gun Violence, Stabilize Childcare Now, Saving the National Budget, and Stopping Maternity Ward Closures
On the radio show this week, we cover the steps that leaders need to take to end gun violence in America; why your voice is needed to help stabilize the childcare system, which is a big part of what makes our economy run; how the national budget fights impacts you; and what's happening with the increase in maternity ward closures – and how you can help.
Reproductive & maternity care deserts are becoming more and more prevalent these days. Do you live in one?

Urge Congress to support comprehensive legislation addressing the Black maternal health crisis!
Special guests include: Kathleen McFadden, Moms Demand Action for Gun Sense in America, @MomsDemand; Nina Perez, MomsRising, @MomsRising/@MamasConPoder; Rricha deCant, Center for Law and Social Policy (CLASP), @CLASP_DC; and Tina Sherman, MomsRising, @MomsRising
Or on your preferred streaming platform: