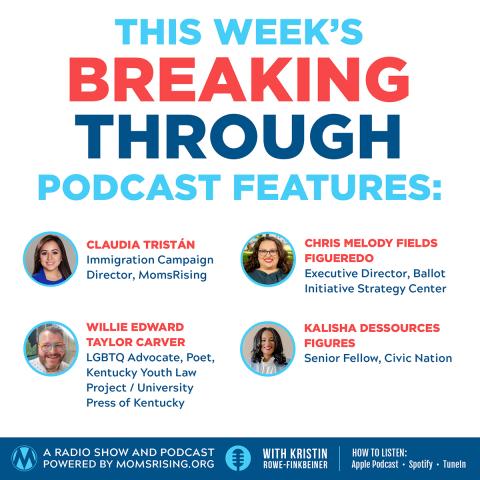 Breaking Through: Direct Democracy, Fair Immigration Policies, Building the Bench of Leaders, and LGBTQIA+ Rights!
On the radio show this week, we cover direct democracy, ballot initiatives, and how you can help shape our nation; we also hear the latest in the fight for fair immigration policies and how you can help; discover how build the bench of local leaders and why that's so important; and we hear about tactics for supporting LGBTQIA+ students and rights.
*Special guests include: Chris Melody Fields Figueredo, Ballot Initiative Strategy  Center, @ballotstrategy; Claudia Tristan, MomsRising, @MomsRising @MamasConPoder; Kalisha Dessources Figures, Civic Nation, @ChngeCollective; Willie Edward Taylor Carver, LGBTQIA+ Advocate, Poet, Kentucky Youth Law Project, and University Press of Kentucky, @willieETcarver
Listen to the episode right here! 



Or your preferred streaming platform