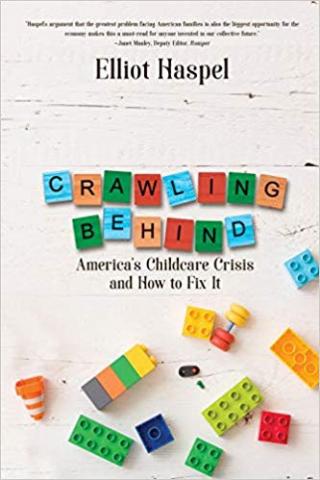 Book talk on Child Care Crisis in NYC: Join Us!
When I had my first baby, I was working outside the home, and I had to take an unpaid leave which put a dent in our family savings and resources. When it came time to go back to work, we were lucky enough to have family support for child care. Without my Mami, aka Abuela,  providing full time care for the first few months and later on the help of other family members, I am pretty sure we would have gone into debt to pay for exorbitant daycare costs, putting an additional dent on already depleted savings. 
Unfortunately, not all families can rely on their family members for childcare (nor should they have to!).  All over the country, and especially in New York City, parents are just being stretched too thin. Our families and communities deserve better! 
**LET'S TALK!** RSVP to join me on Tuesday, January 28 at 6:00 PM for a FREE book talk and discussion event with author Elliot Haspel for his new book, Crawling Behind: America's Child Care Crisis and How to Fix It. 
It shouldn't be this hard to have children in the richest nation in the world, but it is. That's why we want to hear from you! I'll be moderating this discussion for us to explore what a sustainable national child care policy looks like. Elliot Haspel will outline what is wrong with the system and share his ideas for making childcare accessible and affordable for all. Then, we'll come together to discuss  different approaches to achieving child care for all. This event is FREE! Join us and share your experiences and ideas with us!   
When: Tuesday, January 28th, 6pm- 8pm
Where: The Century Foundation, 1 Whitehall Street, 15th Floor, New York, NY 10004
What: Child care panel discussion, book signing, and reception 
Who: Anyone interested in the child care fight, including parents in New York City (that means YOU. Come as you are - there's no need to dress up or read up on the issue! Your presence is enough.)
RSVP by clicking here so you don't miss this opportunity to learn about solutions to the child care crisis and how you can get involved! **The more the merrier! Don't hesitate to share this invitation with others you think might be interested. 
Hope to see you there!