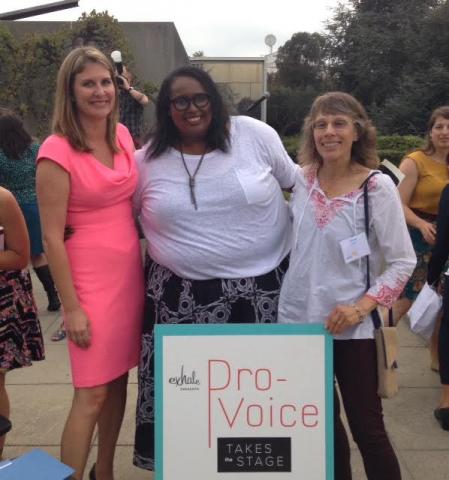 Book Launch! Pro-Voice: How to Keep Listening when the World Wants a Fight
Pro-voice is a practice of nonviolence rooted in conflict-transformation principles. It is a process to create fundamental change in the way our culture addresses personal experiences with abortion. Our pro-voice approach creates, replicates, and sustains strategies that grow culture change. Our nonviolent practices are modeled by how we:
Create opportunities for women and men to feel heard, with dignity and respect.
Take a public stand of support beside all women and men with personal abortion experiences.
Develop projects, programs, and strategies in direct response to the voices and needs of women and men with personal abortion experiences.  
To be pro-voice is to make personal and institutional decisions that prioritize the voices, experiences, and leadership of people who have had abortions. Rather than speak on behalf of women and men who have abortion experiences, a pro-voice approach creates room for women and men to speak for themselves and facilitates forums where they feel heard. By keeping the emotional wellbeing of each person front and center, a pro-voice approach never compromises community needs for political ends.  When you are pro-voice, the means are the ends.
- See more at: https://exhaleprovoice.org/pro-voice#sthash.nceRQgER.dpuf