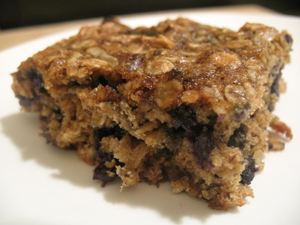 When my son was born, one of the more appropriate gifts we received was C Is for Cooking
, a Sesame Street cookbook intended for parents and children to use together. Way back then, it seemed impossible to imagine that this tiny infant would ever be big enough to eat real food, never mind cook. But soon enough there he was in his high chair, learning to handle avocado, apple, smashed sweet potatoes, and the like. Skinny little fellow that he was (and still is), he never seemed to want to eat all that much. Our little action man had places to go, things to do. Didn't take long for us to notice that he'd stay put—and eat more—if he had some distraction. Something like, say, a book filled with pictures of his Sesame Street pals. At first we'd let him hold the book while we shoveled in food, but eventually the book itself fell apart (harrumph! That shouldn't happen, should it? even if it is all gummed-up by an infant). So we took out his favorite individual pages, slipped them into plastic sleeves, and let junior go nuts.
Fast-forward about a year, and I realized that my little baby was not only old enough to eat real-deal foods, he was also old enough to "help" in the kitchen. A quick flip through the salvaged pages of that book led me to the recipe I'm sharing today. It's easy, it's healthy, it allows ample opportunity for junior to sous chef, and best of all it tastes much, much better than you'd expect from a TV tie-in cookbook. The boy and I have made it dozens of times since then, and I've discovered a beautiful thing: You can swap out the fruit at will—peaches work perfectly here, as do cherries or diced apples. Whatever you've got on hand, really.
Over time I've tinkered with the original recipe a bit, swapping out some of the butter for applesauce and adding some ground flax. Now it's almost healthy enough to eat for breakfast.
OK, truth: We eat this for breakfast whenever there's anything left from the day before.
Bert's Best Blueberry Oatmeal Bars
Adapted from C Is for Cooking
Makes 24 bars
1 1/2 cups all-purpose flour
1 teaspoon cinnamon
1 teaspoon baking soda
1/2 teaspoon salt
1/4 cup flax meal
1 cup packed light brown sugar
1/2 cup granulated sugar
1/4 cup butter (1/2 stick), softened
1/2 cup applesauce
1/2 cup vegetable oil
2 large eggs
1 teaspoon vanilla
3 cups old-fashioned oats
1 pint (2 cups) fresh or frozen blueberries [Either works well. Once I only had 1 cup of fresh berries, so I added 1/2 cup of dried and that was shockingly good.]
Preheat the oven to 350 degrees. Line a 13 x 9 baking pan with parchment paper or aluminum foil. If using foil, spray it with nonstick spray.
In a small bowl, whisk together flour, cinnamon, baking soda, salt, and flax meal, and set aside.
In a large bowl with an electric mixer on medium speed, beat together the brown sugar, granulated sugar, butter, and applesauce until fluffy. Beat in the oil, eggs, and vanilla. With a wooden spoon, mix in the flour mixture until blended. Stir in the oats and blueberries.
Spread the batter evenly in the prepared pan.
Bake until golden brown and a toothpick inserted in the center comes out clean, 35 to 40 minutes. Transfer the pan to a wire rack to cool completely. Lift by the parchment or foil from the pan and cut into 24 bar cookies.
Debbie Koenig is a food writer who blogs at Words to Eat By. Her first cookbook, Parents Need to Eat Too: 150+ Simple, Healthy Recipes for Sleep-Deprived, Frazzled New Moms & Dads, will be published next year by HarperCollins.