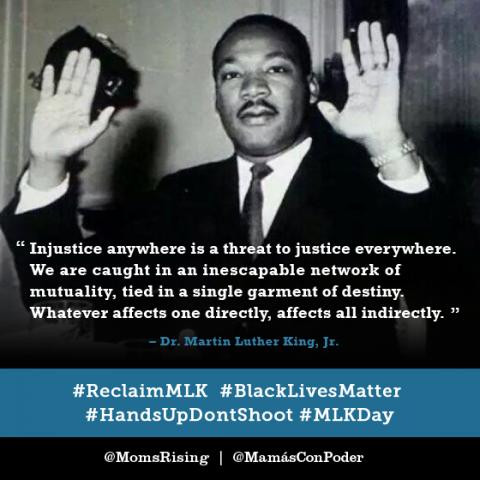 Blog Carnival: A King's Work is Never Done - Continuing the legacy!
Today, January 19, 2015, we reflect on a hero for justice, a servant to all, and a giant among people. Dr. Martin Luther King lived and died guided by his passion for peace, truth, and equality. He and thousands of women and men of his generation led a movement that transformed the social and political landscape of the United States and arguably the world.
Dr. King's work to undo centuries of racism, classism, and injustice was powerful and successful, but in many ways, that work is not yet done. How could it be? No one lifetime can break down generations of structural oppression, and yet, in King's short life of only 40 years, he struck a mighty blow, producing a crack where the light of day can be seen and focused on for generations to come.     
There is no greater example of his impact than the movement that continues to grow more powerful by the day to end police brutality and racial profiling. From
 Ferguson
 to New York to Ohio and beyond, women and men, young and old, are speaking out, organizing, and demanding justice, equity, and equality— and are walking in mighty footsteps while also planting more seeds of hope and change for the next generation. 
Today, we carry the torch, celebrate, and continue Dr. King's work and the work of the many women and men who fought alongside him. Today, we are continuing the legacy. And, today more than ever, ask yourself: How are you continuing this legacy?   
*Please take a moment to scroll down, take a look at the excellent blog posts in this celebration of Dr. King, leave a comment (or two!) on the blogs, and get involved. If you would like to submit a blog post for this blog carnival, please drop the link in the comments section! Also, make sure to follow the #ReclaimMLK hashtag on Twitter for up-to-date information on Dr. Martin Luther King, Jr. holiday events and related actions. Thank you for being part of continuing the legacy!
"Let's Honor The Mothers Of The Civil Rights Movement," Jeff Hays, NewsOne
"Women Leaders of the Civil Rights Movement," Bill Hogan, AARP
"Reforma Migratoria, el tema de derechos civiles de nuestro tiempo,"  Julio Fuentes,  Florida State Hispanic Chamber of Commerce
"Ava DuVernay's Selma Movie Is a Must-See," Denene Millner, My Brown Baby
"Ava DuVernay y David Oyelowo relatan su proceso con 'Selma'" Lindsey Bahr -- Associated Press, El Nuevo Herald
"My Blinders Are Off: What Trayvon Taught Me About Parenting," Vanessa Bell, SpanglishBaby
"Snow Day: On snowballs and lost pay," Beth Messersmith, MomsRising.org
"Talking to White Boys About Ferguson," Leanne Simon, MomsRising.org
"A Time for Prayer, Thanksgiving, Discernment and Strategic Nonviolent Action," Marian Wright Edelman, MomsRising.org
"Medicaid Expansion in North Carolina? Let's Talk About Infant Mortality and Maternal Health," Emma Akpan, MomsRising.org
"Four ways Martin Luther King Jr. wanted to battle inequality," Ned Resnikoff, MSNBC
"A Poor People's Campaign for a New Decade," Elyssa Koidin Schmier, MomsRising.org
"MLK: 'Our Struggle is for Genuine Equality, Which Means Economic Equality,'" John Nichols, The Nation
"The Fierce Urgency of Now: Honoring Dr. King by Working for Economic Justice," Rachel Goodman, ACLU
"MomsRising: Local groups line up to sponsor MLK Day event for kids," Stephanie Lormand, WRAL
"White Privilege," Stephanie Lormand, Scatter Mom
"White People Don't Riot and Other Stupidity," Stephanie Lormand, Stephanie Lormand
"VIDEO: Protecting Our Prince Kings," Erin Dale Byrd, YouTube
"Awkward. Uncomfortable. Stumbling." Beth Messersmith, MomsRising.org
"How Do I Keep My Son Safe From the Police?" Danielle Koonce, Women AdvaNCe
"Kora Brown: Life not easy in fast food lane," Kora Brown, The Durham News
"Praying With Our Feet For Economic Justice," Melanie Fineman, Religious Action Center for Reform Judaism
"Why This MLK Day is Different From All Other MLK Days," Claire Shimberg, Religious Action Center for Reform Judaism