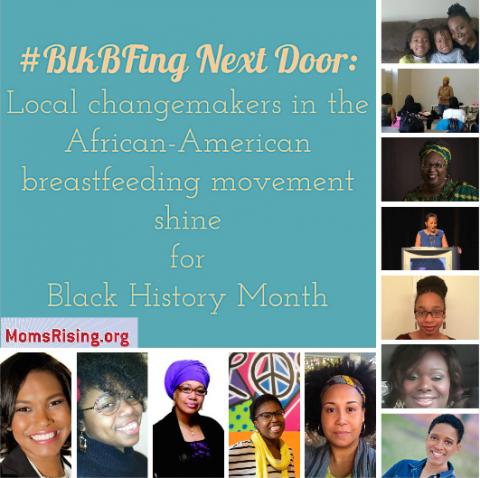 #BlkBFing Next Door: Local changemakers in the African-American breastfeeding movement shine for Black History Month
If the trends on social media are any indication of offline reality, the view of breastfeeding and approach to supporting mothers has radically shifted. The national statistics by race show that 73% of mothers start breastfeeding and 59% of Black mothers, in particular. Being widely accepted as the most optimal way to feed and bond with an infant, discussions about breastfeeding tend to wave a disapproving finger at African-American families for having lower initiation rates than whites. The changemakers featured in this blog carnival are creating a national groundswell by leading from within their communities and affirming Black families with skill, training, socio-cultural relevance and collaboration.
This Black History Month, we are celebrating the work of these people and organizations planting their feet firmly in their own soil, using old tools and innovating new ones. With little to no fanfare, they have accepted the charge to address perinatal and infant health while fostering communal relationships - with some including workforce training and job creation.
As you read through these amazing posts, know that #BlkBFing Next Door is also an opportunity for you to be inspired by the moments that spurred these women into action and the results that keep them going. There is welcome reception and collaboration for those who will also use their tools to tend their community's gardens and those who wish to support from afar. Please leave comments to let us know how you will get involved and keep the movement going.
Thank you to HealthConnect One for collaborating on this blog carnival. The conversation will continue on Wednesday, February 18th, 2-3 PM ET. Join us for a #WellnessWed Twitter chat on the topic featuring @Support_ROSE, @HealthConnctOne and the National Association of Professional and Peer Lactation Supporters of Color.
Jennie Joseph's JJ Way leads to better birth and breastfeeding outcomes, Jennie Joseph, Commonsense Childbirth, Inc.
Brooklyn Breastfeeding Empowerment Zone sparks neighborhood-wide change, Sharon Marshall-Taylor, NYC Department of Health and Mental Hygeine
Mamatoto Village building healthier communities through maternal health, Aza Nedhari, Mamatoto Village
Let's Defy Breastfeeding Myths, Gaylean Woods, Cenpatico Behavioral Health
On Infant Feeding, Research and Community, Dr. Ifeyinwa Asiodu
The Facebook page that proved Black women breastfeed, Nicole Sandiford, Black Women Do Breastfeed
Doula training creating a united front of support for infant feeding, Chanel Porchia-Albert, Ancient Song Doula Services
Oregon-based ICTC grows midwives and doulas around the world, Shafia Monroe, International Center for Traditional Childbearing
Breastfeeding Perspective from Chicago, Tytina Sanders-Bey
Community Transforming ROSEs provide peer lactation support, Andrea Serano, Reaching Our Sisters Everywhere, Inc.
Sherry Payne leads with a village of perinatal health support in Kansas City, Sherry Payne, Uzazi Village
Oakland's Breastfeeding MAFIA is for support and encouragement, Brandi Gates-Mitchell, Breastfeeding MAFIA
BMBFA reveals "You Don't Know My Story," Kiddada Green, Black Mothers Breastfeeding Association
Reaching Our Sisters Everywhere (ROSE) fulfillings its name in breastfeeding support, Sahira Long, Reaching Our Sisters Everywhere, Inc.
Table for Two pushes for public lactation spaces, Sojourner Marable-Grimett, Married with Two Boys
View From A Rack, a talk show on breastfeeding, Afrykayn Moon (Breastfeeding Mothers Unite) & Rebecca Jackson-Artis (VOICE Therapeutic Solutions)
Breastfeeding is Not a Private Issue, Rosetta M. Walls, former Community Health Worker
Helping Mom and Baby Breastfeed, Dana Posley, Certified Lactation Counselor