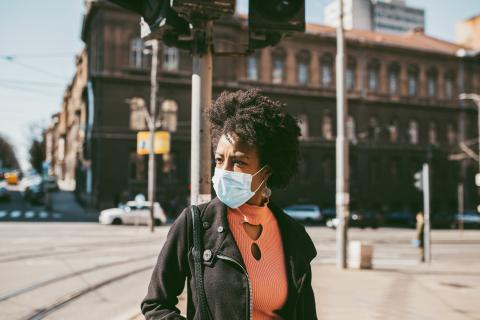 Black & Brown people are dying of COVID-19 at alarming rates.
As the novel coronavirus changes our everyday lives in ways we could never have imagined, we are told over and over again how the virus does not discriminate. Day in and day out we are directed to take protective measures to ensure the safety of our loved ones and the safety of our fellow community members. In recent days, we have learned that while COVID-19 does not discriminate, deep seeded racial inequities that have historically burdened black and brown communities are ever present in the way the virus is disproportionately impacting black and brown people. 
Race shouldn't determine whether you live or die from the COVID-19! The Centers for Disease Control (CDC) must collect and make public racial data on COVID-19, as well as develop guidance for health leaders and hospitals to close this disparity!
In Milwaukee Wisconsin, African Americans make up 26 percent of the total population and an unconscionable 70 percent of COVID-19 deaths. Seventy percent! Similar disparities have emerged in Louisiana, where 70 percent of the people who have died were black, despite African Americans making up only 32 percent of the state's total population. [1] In Michigan, African Americans comprise 14 percent of the population and are 33 percent of cases and approximately 40 percent of COVID-19 deaths with more than a quarter of those cases occurring in Detroit, where African Americans make up 79 percent of the total population. In Chicago black residents have died at a rate of SIX TIMES that of white residents and, of the 118 reported deaths in Chicago, close to 70 percent were black.[2]
In New York City, the epicenter for the COVID-19 pandemic, Latinx represent 34 percent of the people who have died of the coronavirus but make up 29 percent of the city's population. A study conducted by the New York City comptroller found that 75 percent of front-line workers in the city—grocery clerks, bus and train operators, janitors and child care staff—are minorities. More than 60 percent of people who work as cleaners are Latinx and more than 40 percent of transit employees are black. [3] This compounds existing racial and economic inequities in black and brown communities and puts these communities at an increased risk for contracting and dying from COVID-19 as the data is starting to show. [4]
We must protect ALL communities from COVID-19: Collecting racial data, making it public, and developing guidance for health leaders and hospitals  would help close disparities and do that! 
This shocking review of the limited data available shows that African Americans and Latinx are dying at rates markedly higher than white American and while at the highest levels these disproportionate deaths along racial lines are being noted, the CDC is currently failing to collect and publicly report on the racial and ethnic demographic information of patients tested for and affected by COVID-19.[5] The World Health Organization (WHO) declared COVID-19 a global pandemic on March 11th—a declaration that should ideally ramp up research and data collection on the virus with the hopes of stopping the spread. [6] 
Natural disasters and epidemics, and other public health crises aggravate existing burdens faced by communities of color. In places like Chicago prior to COVID-19, there were already broad reaching health inequities amounting to an alarming nine year gap in life expectancy between black and white communities. [7] We can and HAVE to do better.
According to Aletha Maybank, Chief Health Equity Officer for the American Medical Association, collecting demographic data is central to understanding injustice and ensuring the optimal health of people. She asserts that we must commit to finding ways to structure and standardize the collection of all types of demographic data, of information not only about race and ethnicity, but also gender identity, sexual orientation and preferred language, factors that have made people more vulnerable to the blows of public health emergencies.[8]
Currently less than a dozen states are collecting any data this includes data on who receives tests, who tests positive, who is hospitalized, and who dies. This has to change. We need the CDC to collect and share demographic data if we want to ease the burden of this global pandemic for all of us. In addition to demographic data, the CDC must require data collection for clinical trials for COVID-19 vaccines, particularly because clinical trials have historically excluded black and brown communities. [9]
If demographic data is not collected, it will make it nearly impossible for researches and policy makers to identify and address disparities and health inequities that run the risk of accelerating the impact and spread of the coronavirus. 
We need the CDC to develop and implement health equity interventions across all efforts to address this global pandemic. This includes ensuring that various components of the stimulus require the collection of national health outcomes data by race, and ensure that all new policies urgently address these racial disparities. 
Together we can ensure that race is not the factor that determines whether you live or die from COVID-19. Sign on to demand the CDC to collect and make public racial data on COVID-19, as well as develop guidance for health leaders and hospitals to close this disparity!