It's Chinese New Year. For me, it's a time of celebration with dumplings, noodles, red envelopes filled with money, and a reflection of what it means to be Chinese.
I'm proud of my heritage and all the accomplishments Chinese people have contributed to society. I'm often repeating things my mom told me as a child to my own kids ala Gus Portokalos in My Big Fat Greek Wedding, such as, "Did you know fireworks, gun powder, and noodles were invented by Chinese people?
While I'm proud to be Chinese, I've also had to endure a lot of stereotypes for being a Chinese-American. Discrimination my childhood friends' parents for not wanting their kids to play with an "Oriental" kid. Racist remarks from strangers about my "interracial" relationship with my boyfriend. And sexual harassment from men who believe Asian women are somehow more sexual than our Western counterparts. We're not, just ask my husband.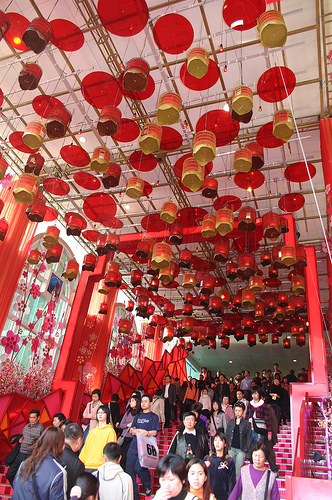 Photo by Flickr user MKibble
And now as a mother I'm dealing with parenting stereotypes thanks to Amy Chua's contentious book, Battle Hymn of the Tiger Mother. People automatically assume I'm a Tiger mom who forces my kids to play piano and stay up all night doing math problems. Or that I must cook the most amazing Chinese food – but actually my cooking repertoire is limited to pasta and salads. I couldn't make a dumpling to save my life.
Even my 4-year-old son has dealt with fair share of discrimination. He's a quarter Chinese but doesn't look anything like me. He's got blond hair and blue eyes. He told one of his friends at preschool that he was Chinese, and the other kid said, "No, you're not. You're lying." My son protested yelling, "Yes, I am! I'm Chinese!"
Yet with each new chapter in my life I'm learning to let go of what others think about me and my Chinese-American status. For me, it's about honoring traditions like Chinese New Year with my kids and celebrating all the wonderful contributions Chinese people have made to America, including bringing over their tasty dumplings. And teaching my sons how to deal with discrimination for being Chinese – or in my 4-year-olds's case not being Chinese.