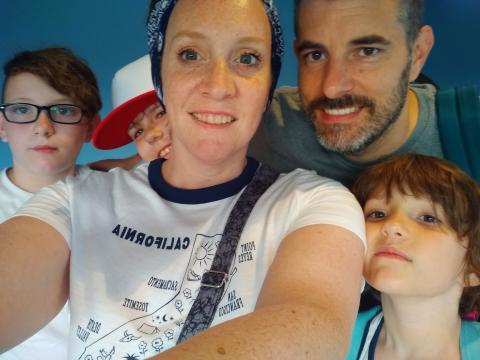 Becoming a Working Stay at Home Mom in New Hampshire
"You are so busy, I don't know how you do it!" 
If I were good at math I'd tally up and figure out how rich I'd be if I had a nickle for the amount of times in a week I hear this phrase.  I am not good at math however.
For the past eleven years I have been a stay at home parent, homeschool mom to 1, and caretaker for my three children.  I have twin boys who are eleven (both are Autistic), an eight year old daughter and a husband of 17 years.  We are a diverse bunch with a penchant for horrible 1980s tv sitcoms at the moment.
 My husband and I could not afford to put the twins in childcare when they were born so I quite willingly offered to stay at home until the kids were in school full time.  That sounds cute right?
 In 2011, my twins were 2.5 and diagnosed with Autism.  Around that same time I was also surprised with the pregnancy of my daughter.  If you asked how I did it all back then I'd have probably slapped you silly.
It took until last fall for our family to finally fall into a routine that worked for everyone.  One son homeschooled, the other two kids in public school and my husband teaching at a public community college.  
Thanks to the newfound copacetic routine, I was able to attend the New Hampshire Leadership Series where I learned to advocate for and be a champion of disability rights in our state.  I was able to hook up with our amazing local MomsRising folks, and other local activist groups. It felt so great to be getting out amongst other like minded people.
I loved my time in the series and when the opportunity to work with the series, I jumped at the chance.  Then, I tried to figure out exactly "how I'm going to do it all"...
My husband and I created a joint calendar where we inputted our work commitments and every possible doctor, therapy, school events and lessons.  From there we coordinated the one day that I would be working with my newly retired Mom's schedule (YEAH Grammy!) so that my son would spend that time with her and then she would also pick the other two up at school.   Next I created a plan for my son's homeschool routine.  I planned out what I knew we needed to work on through December and set a goal for our second half of the year project.  
I'm a scheduler, so I set days for laundry, room cleaning and sitting on the recliner crocheting time.   Most days I am up by 5am,  so on work days I am able to get up and make sure the kids have reasonably unwrinkled clothes and lunches, drink my coffee and then get myself and other son ready for the day. I drop him off, drive to work and have a good time there, drive home and go from there.  My husband and I swap dinner duties, a new thing that is absolutely fantastic.
Our life isn't all sunshine and roses and we definitely aren't like those people dancing in the kitchen on tv commercials (that'd be an invitation for relentless ridicule by all here)- we have some really tough struggles right now with the kids and the looming puberty (YIKES), but how we handle it all is taking it on as a team.  That is how I do it, I am lucky to have a teammate who supports me as I support him. 
Why do I do it? This is something I am hardly ever asked but I am going to answer the question anyway.  I work in a job where I can empower folks to be strong self advocates. I attend meetings and speak at forums for health care rights for all people. I am working for way more than a paycheck.  I do it because I am 10000000000% aware of my privilege and  I want to be out there when I can be advocating for those who don't have a teammate, who don't have the luxury of being at home with their children, who need a voice because they're just too damn tired to use theirs right now.