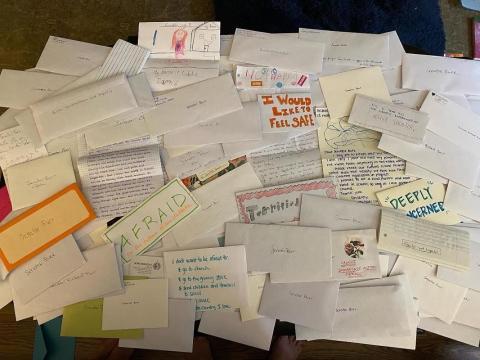 Beacons of Hope: July Highlights
Beacons of Hope:
Community Leaders IN ACTION!
July Highlights
Moms are frustrated and overwhelmed…and also fired up!  During this challenging time, it is inspiring to see  MomsRising volunteers engage in creative, powerful actions to drive change, building momentum as they go. These volunteer MomsRising Beacons of Hope Community Leaders from across the country are powering up grassroots actions and engagement in their communities. Here are some highlights from July: 
Meetings with Lawmakers
Mariah Seater, from Alaska, joined a coalition of mothers meeting virtually with Sen. Murkowski to advocate for children, families, and women. During the meeting, Mariah asked the Senator to extend child nutrition waivers so that children could continue receiving free school meals; the next day Sen. Murkowski signed the Keep Kids Fed Act, which extends free school meals until September!
Priscilla Spence, Stormy Johnson and Meghan Hullinger, of West Virginia (below), met virtually with Sen. Manchin's office last week. Along with members of a school meals coalition, they shared how school meals have positively impacted their families, and urged Sen. Manchin to extend universal school meals for the next school year.  
Christina Townsend, of Virginia (below), participated in an in-person early learning roundtable event with Sen. Kaine. During the meeting, she shared the challenges of finding and affording child care. She said that Sen. Kaine really seemed to listen to her and the other mothers sharing their experiences. 
Gun Violence Prevention Letter Writing Campaign
Eight Beacons across 7 states  (NC, VA, OH, FL, WI, PA, and GA) wrote letters to their senators and encouraged friends and family members to write letters as well, urging lawmakers to pass gun safety legislation.  This gun violence prevention letter writing campaign was developed by MomsRising early learning fellows Caroline Pharr and Tiffany Yang, and picked up by our Beacons, who loved the idea and wanted to replicate it! 
Jessica McCrory of North Carolina collected 162 handwritten letters (pictured below) from her community members.  She set up a meeting with Sen. Burr's staff in Winston-Salem, NC and hand delivered the letters. The day after their meeting, the bipartisan gun safety bill passed.
Karen Cody, of Wisconsin (below), planned a meet up with community members to write letters to lawmakers about gun safety legislation; however, the Supreme Court decision overturning Roe v. Wade was announced the day of their meeting, so they quickly shifted gears. Community members met at her house to make protest signs, and then they all participated in an abortion rally at the state capital. 
Rachel Shelton of North Carolina (below) organized a gathering at a local park. While the children played, moms were busy writing letters to NC lawmakers advocating for gun safety legislation.
MomsRising Meet Up Events
Beacons also held gatherings to raise awareness of MomsRising.
Noelia Orduño
and
Marina Jimenez (below)
, of Arizona, organized a Super Volunteer Meetup in Tucson. Seventy community members showed up to this event, where they learned more about MomsRising/MamásConPoder, connected with each other, and were entertained by a Ballet Folklorico and feasted on burritos.
In Washington State, Carolyn Solitaire and Gabriela Villagomez-Morales (below) organized a MomsRising meet-up event and tabled at a Juneteenth celebration. During both events, they raised awareness of MomsRising and talked about paid family leave and child care.    
In Detroit, Michigan, Bobbi Johnson (below) gave a voter engagement presentation to seniors at an elder care home. She also introduced them to MomsRising. 
Our Beacons of Hope show that when we come together, every action has an impact. When we build communities of change and raise our collective voice, we are an indisputable force for good.