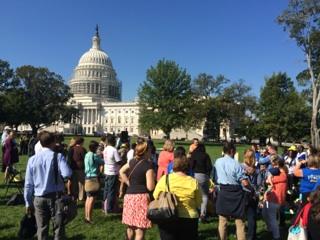 Babies on the Senate Floor: "A Victory For All Working Parents"
U.S. Senator Duckworth already made history once this month by becoming the first sitting U.S. Senator to give birth; and she has now done it again by successfully pushing for a change in the U.S. Senate rules that will allow children under the age of one to be brought onto the floor during votes. This is a victory not just for moms in the Senate, but for all working parents in our country. MomsRising members across the country, including the tens of thousands who took action to urge these changes, are celebrating today.
 
New parents face significant barriers in the workplace. Many lack sufficient paid family and medical leave, affordable child care options, and spaces to breastfeed or pump. Reasonable accommodations like the U.S. Senate rule change can go a long way in helping new parents re-enter the workforce, which would improve families' financial security, increase productivity and boost our national economy.
 
At a time when more women and moms are running for office than ever before, we're thrilled to see the U.S. Senate update some of its more archaic regulations to make room for more female representatives. More than 80 percent of women in America become moms -- and it's time to open the doors to the halls of power to us. We hope that legislatures and businesses around the country follow the Senate's lead to build more family-friendly workplaces.