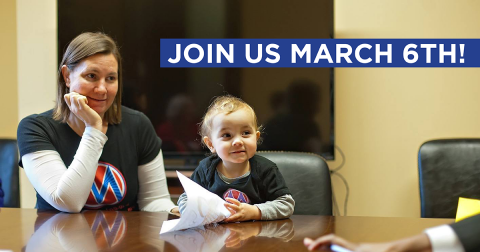 Attention DC: RSVP NOW for our early learning delivery!
Those of us who live in the DC area know what a struggle it can be to find high-quality yet affordable early learning options, like childcare and pre-k, for our little learners.  That's why we were so thrilled this past fall when Senator Patty Murray (WA) and Representative Bobby Scott (VA) introduced The Child Care for Working Families Act, an important bill that advances affordable, high-quality early learning options for our littlest learners and provides a liveable wage to early childhood professionals. [1]
Now we want to spread the word and make sure every member of the the U.S. Senate supports the Child Care for Working Families Act! 
RSVP now to join us on Capitol Hill, Tuesday, March 6th to meet with Senators and deliver petition signatures in support of the Child Care for Working Families Act!
It's going to be an exciting day! We are joining with partners from National Women's Law Center, National Association for the Education of Young Children, SEIU, and a dozen other organizations to storm the Hill and let lawmakers know that our kids' early education should be a top priority for Congress. We will be meeting with key Senators, delivering signatures in support of the Child Care for Working Families Act from moms around the country, and chatting with the press. Plus…there will be flower crowns! We know that the Child  Care for Working Families Act helps our littlest learners grow up strong, so we will be delivering seed packets, along with the letters from moms, and we will have flower crowns and leis for you and your kids.
Here are the details:
Who: Moms, dads, kids, early childhood professionals, advocates, and YOU
When: Tuesday, March 6th at 11:00 a.m.
Where: Hart Senate Office Building (Constitution Ave. between 1st and 2nd NE)— On the 1st floor in front of the huge black sculpture. Union Station is the closest metro
**We would love for you to bring your kids…we'll have fun flower items to dress them in! If you have a MomsRising t-shirt please feel free to wear it (otherwise we'll have stickers available)
Join us on Capitol Hill at 11 a.m. on Tuesday, March 6th! RSVP here!
We are hoping to have a large crowd to show that investing in early learning is a top priority for our families, so after you RSVP, please forward this email to your friends and family and ask them to join you on Capitol Hill. You can also post our RSVP link to Facebook (including in any private Facebook groups you belong to).
Together we can show our support for high-quality, affordable early learning!
[1] Child Care for Working Families Act. https://action.momsrising.org/go/35658?t=7&akid=10472%2E2494709%2EpsgA5w